Back to news
EMS Healthcare launches market's first mobile decontamination unit
Jo Quarterman
Published 13 November 2017
Clinical capacity
Endoscopy departments across the UK now have access to the UK's first mobile decontamination unit, marking a groundbreaking innovation for the endoscopy market that will save hospitals considerable time and money. Quest+ Decontamination is the latest facility from leading mobile medical unit provider, EMS Healthcare, and was developed following a number of requests from healthcare providers facing increasing capacity challenges.
Currently, in order to meet demand, healthcare providers must either use external decontamination services – an expensive process that can take days to complete – or transfer the decontamination suite to a new location within the hospital estate, which can often result in ward closures. The new unit enables hospitals to continue endoscope reprocessing services without disruption for the first time, creating efficiencies either when in-house decontamination is running at full capacity, department refurbishments are required, or equipment has reached the end of its eight-to-ten-year lifecycle.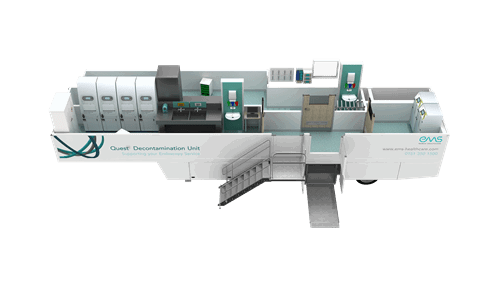 Keith Austin, CEO at EMS Healthcare, commented: "We work closely with healthcare providers to respond to their challenges and Quest+ Decontamination is a great example of our innovation in action. The unit offers hospitals a viable option for proactive equipment and capacity planning, as well as a quick solution in the face of emergency situations, aiding clinicians in the delivery of sustainable and uncompromised care."
With the demand for gastrointestinal endoscopy set to exceed 2.4 million procedures per annum by 2019/2020, up 44 per cent since 2013/14 [1], Quest+ Decontamination is being introduced as growth rates hit an all-time high. The unit is fully HTM compliant, featuring medical grade materials throughout. It is a completely independent facility, comprising four washer disinfectors, an endoscopy grade sink and its own RO plant on board, enabling JAG accreditation. With a footprint of 16.8m x 6m, Quest+ Decontamination can easily be driven on site.
Keith Austin continued: "With Quest+ Decontamination we have solved a major gap in the endoscopy market for a solution that enables hospitals to keep their reprocessing department running smoothly with no downtime when installing new equipment or refurbishing existing facilities. "We're proud to be pioneering the mobile medical unit sector and have already received multiple enquiries from industry leaders who have disclosed a real need for the unit."
For more information and to discuss your requirements get in touch.
*Equipment for illustration purposes only
[1] http://www.cancerresearchuk.org/sites/default/files/scoping_the_future_-_final.pdf