Back to news
Mid and South Essex NHS Foundation Trust brings mobile solution to hospital estate amidst winter pressures
The Mid and South Essex NHS Foundation Trust have partnered with mobile medical unit provider EMS Healthcare to launch an Ambulance Handover Unit as part of a collaborative project with East of England Ambulance Service NHS Trust (EEAST). 
Jo Quarterman
Published 08 November 2022
Clinical capacity
The NHS faces considerable amounts of pressure during the winter months as demand for space and services increase significantly. Emergency admissions and the number of people requiring hospital care also increases. 
Contracted for six months, the Ambulance Handover Unit at Southend University Hospital will provide additional support to Mid and South Essex NHS Foundation Trust by helping to alleviate ambulance handover delays over the winter period. 
The mobile unit is set to increase capacity and release up to 12 ambulances back into the community, whilst also providing a safe place for patients to receive care by clinicians before being admitted to emergency departments.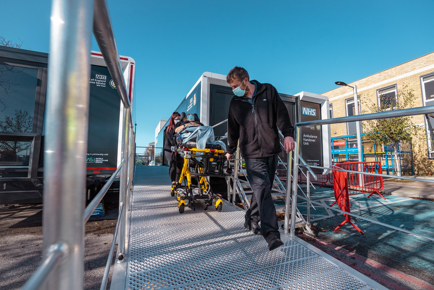 Tom Abell, Chief Executive at East of England Ambulance Service, said: "The introduction of an Ambulance Handover Unit at Southend Hospital site will release more vehicles and crews for responding to emergencies. It will also help us to meet the challenges of the coming winter months, when we know demand will increase.
"When people call 999 the public expect the ambulance service to attend, units like this will help make sure that we can." 
The unit will be located near the ambulance bays at Southend Universtiy Hospital, helping to release ambulance crews to respond to emergency calls with few delays and improve patient experience. 
Read more about the unit at Southend University Hospital: https://www.mse.nhs.uk/latest-news/ambulance-patient-handover-delays-to-be-helped-by-new-unit-3509