Back to news
Mobile clinic tackles hospital pressures in Yorkshire and Greater Manchester
A mobile clinic providing health services for communities across West Yorkshire and Greater Manchester is helping to reduce the burden on hospital emergency departments.  
Laura Nash
Published 21 September 2023
Clinical capacity
The 'Clinic in a Van', operated by Locala Health and Wellbeing, has been touring locations including Bradford, Kirklees, Stockport and Tameside, over the last seven weeks. Locala is working in partnership with Ellesmere-Port based EMS Healthcare, one of the UK's leading providers of mobile healthcare units.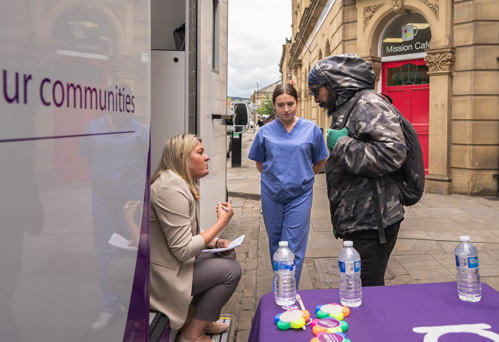 The van, which is specially designed to meet clinical requirements, includes a waiting area and a separate clinical room, and has already been used to offer a variety of services:
Sexual health outreach across all four localities
GPs from the Whitehouse Centre in Huddersfield offered targeted support for people experiencing homelessness and the most vulnerable people living in emergency accommodation
Free drop-in sessions by the immunisations team in Kirklees schools, where parents receive advice about the MMR jab and children can be vaccinated when required
Locala's wound care team visited the Huddersfield Mission to support people experiencing homelessness
Overall, more than 300 clinical interventions have been delivered, in communities that are currently underserved.
Victoria Vallance, Locala's Chief Nurse, said: ""We are constantly looking for new ways to help people in our communities access health and wellbeing services as easily as possible, and this has already proved to be an exciting way of doing just that." 
Katie Saunders, Office Manager at Locala's Whitehouse Centre GP Practice, added: "One of the key ways it is helping is reducing the number of people going to A&E or calling for an ambulance. That's because they know that we're here and they can come along and get the healthcare support they need." 
Locala is now offering more services during the rest of the pilot programme, which has been extended by a further nine months.
Laura Nash, Head of Outreach at EMS Healthcare, commented: "We are delighted to be working alongside Locala in delivering essential services to communities in West Yorkshire and Greater Manchester. The results so far have been hugely impressive, and we look forward to continuing our support over the coming nine months."
For more information on the 'Clinic in a Van' and where it will be located over the coming weeks, please visit: https://www.locala.org.uk/news/locala-services-go-out-on-the-road