Back to news
Proactive Planning - how mobile medical units can help our NHS plan ahead
Keith Austin
Published 26 February 2018
Clinical capacity
The future of the NHS has been surrounded by a great deal of negativity in recent years. It's a service we all cherish, yet every week we are met with a new headline and shocking statistics that expose more trusts entering special measures, prolonged waiting times for patients and a lack of funding for growing health concerns. Here CEO, Keith Austin discusses how mobile medical units can help our NHS to plan ahead.
Why proactive?
The NHS has long worked in a reactive manner, but with the ageing population and more patients at risk of chronic health conditions, capacity strains no longer come as a surprise, which means unavoidable problems can be identified early. Although not everything can be planned for or expected, there are many aspects of healthcare that we can predict.
For hospital estates and facilities teams, this couldn't be more true. NHS England owns an estate floor area that is enough to cover the City of London 10 times, and a recent report by Sir Robert Naylor for the Secretary of State for Health found that 18% of NHS provider estates predate the formation of the NHS, whilst 43% were built over 30 years ago. We don't need an expert to tell us that the facilities in use are too often outdated and unsuitable for the 21st century, meaning they are unable to keep up with the grave changes in demand.
As the pressure mounts for the NHS to act more commercially, many trusts are realising the benefits of embracing a proactive approach to keep on top of the increases in demand long before waiting list targets are missed. For example, whilst planning for winter is not a new concept – this time of year goes hand-in-hand with increased hospital admissions – chronic illnesses are now also posing an equal challenge as the prevalence increases with the ageing population. By closely monitoring these conditions, we gain a clearer vision of how the next 12 months may play out.
Modernising facilities
It is not just the service capacities that need planning for. In many cases, the facilities that enable services to go-ahead are in urgent need of refurbishment, something Government has recognised with a dedication of £3.5bn between now and 2020 to undertake repairs to ageing estates and new equipment. However, until those restorations are complete, trusts will still need to plan for disruption. Our latest mobile medical unit, Quest+ Decontamination, has been developed in response to this, following a stream of enquiries from clinicians requiring a temporary solution for the decontamination of endoscopes.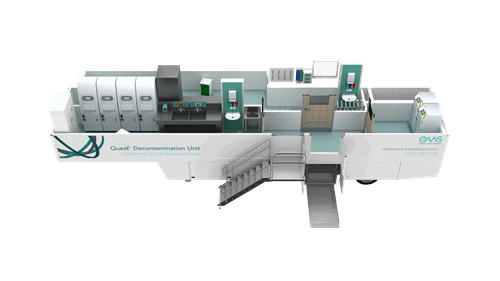 The unit is the first of its kind, solving a major gap in the endoscopy market that enables trusts to continue reprocessing their endoscopes in-house, either when their own facilities are at full capacity, or when equipment has reached the end of its eight to 10-year life-cycle and is in need of refurbishment. Demand for gastrointestinal endoscopy is set to exceed 2.4 million procedures per annum by 2019/2020, up 44% since 2013/14, so having solutions like this in place will be crucial to ensuring uncompromised patient care throughout.
Often there can be barriers that are preventing a trust from delivering the service it strives towards, but talking about them openly can help – it is only through those at the forefront of the services speaking out that we were able to develop Quest+ Decontamination. There are hundreds of companies out there developing groundbreaking solutions designed to support the healthcare sector, and by communicating with them and other trusts, hospitals can often find a resolution to overcome these obstacles.
Read the full article Keith Austin wrote in Public Sector Build Journal here.