Back to news
The future of clinical trials, is mobile the answer?
An independent review of clinical trials by Lord James O'Shaughnessy was published on May 26th. Helen Jones, Divisional Director, Clinical Research, at EMS Healthcare, looks at how taking trials into the heart of communities can play a pivotal role.
Helen Jones
Published 02 June 2023
Clinical research
World Clinical Trials Day on May 20th is a symbolic moment in the healthcare calendar – a time for the clinical research community to reflect on all that has been accomplished, thanks to trials and the people behind them.  Remarkably, it dates back to 1747, when James Lind started what is often considered the first randomised clinical trial, aboard a ship.
Nearly 280 years later, World Clinical Trials Day carried a special resonance in 2023, as we awaited the outcome of the review by Lord O'Shaughnessy, the former Life Sciences and Innovation Minister, and a board member of Health Data Research UK.  One cannot help but conclude that this is a crucial juncture to resolve key challenges in conducting commercial clinical trials across the UK, and to ultimately deliver the best possible results for patients.
With the NHS continuing to face extreme capacity pressures, ongoing innovation will be critical to maintaining research momentum. In my view, the decentralisation of clinical trials, which was accelerated during COVID-19, must continue at pace, if we are to deliver on our future ambitions for transforming health outcomes.
Our experience at EMS Healthcare during the pandemic was that speed of deployment, strong partnerships, and a determination to ensure that care was accessible to all our communities, produced outstanding results. The extensive use of mobile facilities and the introduction of new models of delivering care, was a template for success, not just for the extraordinary nationwide roll out of testing and vaccinations, but also for ensuring diverse participation in clinical trials.
Setting out the challenge
It was in February that the government announced that Lord O'Shaughnessy would lead an independent review into the UK commercial clinical trials landscape and bring forward recommendations on how commercial trials can help the life sciences sector unlock UK growth and investment opportunities. 
The intention was for the review to build on the government's 10-year vision for clinical trials, according to the Health Minister, Will Quince: 'We are harnessing the same spirit of innovation that delivered the COVID-19 vaccine and working hand in hand with the NHS, industry and healthcare experts to get cutting-edge medicines to patients faster.'
'This review will help us to find new ways to conduct commercial clinical trials that will speed up diagnosis, enhance treatment and enable the NHS to deliver world-class care, as well as cementing our position as a life science superpower.'
There is no doubting the aspiration but equally, the scale of the challenge remains enormous. According to the latest annual report of the Association of the British Pharmaceutical Industry (ABPI), patient care, the NHS, and economic growth are all missing out, following a collapse in the number of UK industry clinical trials.
The report - 'Rescuing Patient Access to Industry Clinical Trials in the UK'- shows that the number of industry clinical trials initiated in the UK per year fell by 41% between 2017 and 2021, with cancer trials falling by the same margin.
The report also shows that between 2017 and 2021:
The number of Phase III industry trials initiated in the UK – those with medicines closest to market – fell by 48%.  
The UK has fallen down the global rankings for late-stage clinical research, dropping from second to sixth in Phase II trials and fourth to 10th in Phase III trials.
Patient access to industry clinical trials on the National Institute for Health and Care Research Clinical 
Research Network (NIHR CRN) fell from 50,112 to 28,193 between 2017/18 and 2021/22 – a 44% drop.
These stark findings are alarming for all of us, not least because the report found that consistently slow and variable study set-up and recruitment timelines in the NHS are forcing some pharmaceutical companies to stage their trials in other countries. Hence the pressing need to find the most effective, efficient, and targeted solutions.
An opportunity for change
In our submission to Lord O'Shaughnessy, we emphasised that with the NHS continuing to face extreme capacity pressures, support from the independent sector is critical if we are to maintain momentum in both clinical trials and research programmes. It gives sponsors control over the speed of recruitment to the trial, and it means hospitals and GP practices avoid unnecessary visitors when time and space are already at a premium.
In the event, the review came up with 27 recommendations, all of which have been accepted by the government, including a desire to quadruple the number of people taking part in commercial trials by 2027.  
There is strong evidence that taking trials out of traditional healthcare settings attracts a more positive response from participants. It also enables hard-to-reach communities to have easier access to trials, giving studies better population representation and strengthening their data as a result. The GRAIL NHS-Galleri Trial, which is using EMS Healthcare mobile units to reach 140,000 participants across the country, is one of the leading examples of this approach and is featured as a case study in the O'Shaughnessy review.
It is the world's largest trial of a revolutionary new blood test that can detect more than 50 types of cancer before symptoms appear. Participants have been giving blood samples at mobile testing clinics stationed in retail parks and other convenient community locations. The target of 140,000 was reached within 10 months and achieved a participant satisfaction rate of 97%, which was critical to ensure people came back 12 months later for their next test. We are currently on target to achieve an exceptionally high retention rate of 92%.The NHS-Galleri trial is being run by The Cancer Research UK and King's College London Cancer Prevention Trials Unit in partnership with the NHS and the biotechnology company, GRAIL.  
When the trial was launched in September 2021, Sir Harpal Kumar, President of GRAIL Europe, gave this assessment: "We want to be able to access as many people as possible in the population. By using mobile clinics, we have a presence in locations that are easier for volunteers to get to. Hopefully, we can overcome the typical problem that studies face in ensuring a good representation of the population, by having the clinics in convenient places."
This method is strongly supported by the O'Shaughnessy review, which recognises the importance of innovation: "The NHS-Galleri trial demonstrates the benefit for large-scale, fast recruiting trials of using innovative trial approaches to facilitate more diverse and representative trial recruitment than has been achieved through traditional methods."
Initial results of the study are expected this year and, if successful, the NHS in England plans to extend the rollout to a further one million people in 2024 and 2025.
The ongoing debate about the future approach has stirred eminent voices. Dr Lennard YW Lee is National Clinical Advisor on Cancer Innovations and Research Studies at NHS England, an NHS oncology consultant, and an associate professor at the University of Oxford.  His expertise lies in delivering national studies and trials that push the boundaries of what is possible and breaking down silos to achieve quicker results.  
Addressing his social media followers after the publication of the review, Dr Lee described it as a "comprehensive package." And he concluded: "The key is that we all try and do more. Because, after all, if more trials come to the UK, it's better for our patients. They get the latest drugs and it's good for the NHS and it helps our economy. It will also save lives."  
Looking to the future
As always, collaboration remains the key to securing progress. EMS Healthcare is currently supporting Our Future Health, the UK's largest health research programme, with mobile units in retail car parks at multiple locations across the country. Such has been the popularity of the mobile sites that additional appointment days have been added to the programme schedule.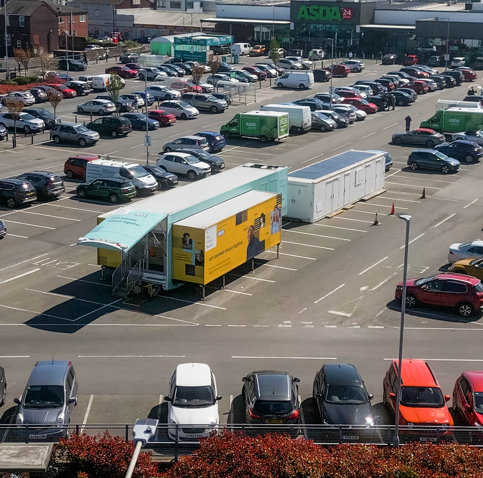 Our Future Health's goal is to recruit up to five million volunteers across the UK, creating one of the most detailed pictures we have ever had of people's health. Once again, accessibility and convenience within community settings make it as easy as possible for people to take part.
Continuing to support innovation and take advantage of new technology within the research industry will enable us all to play a part in transforming health outcomes, and the provision of mobile facilities is undoubtedly an essential ingredient.
It is hugely encouraging to see the impact of mobile units acknowledged in the O'Shaughnessy review – we believe it is a successful template for widening trial participation.  
A detailed response from the government to the review recommendations is due in the autumn.  For the clinical trials sector, the NHS and its many partners, key decisions for both the short and long-term cannot come soon enough.