Back to news
Behind the scenes - Bringing the UK's first mobile decontamination unit to market
Following the recent launch of the UK's first mobile decontamination unit at Pinderfields Hospital, we decided to go behind the scenes and hear from the man who managed the production process.
Jo Quarterman
Published 26 June 2018
Clinical capacity
Nick Hutchinson, General Manager of EMS Production, has managed the build and fit out of mobile medical units for over 20 years. Here, he provides us with an insight into the journey of bringing the first mobile decontamination unit to the UK market.  
You've just completed the build of the UK's first mobile decontamination unit. How did you plan for the production process?
"All mobile medi
cal unit build projects begin with evaluating the asset [medical unit] we are working with, along with what industry guidelines we must follow. In the case of Quest+ Decontamination, we visited existing NHS Trust decontamination and sterile services departments to become familiar with the specific requirements and consulted with clinical staff before applying this to the mobile unit. We've certainly benefited on this build from having our own in-house workshop, which has enabled us to accommodate multiple contractors on site, while managing a complex schedule."
How long did the project take from start to finish? 
"The unit was being constructed in our workshop for a total of 11 weeks, which included two weeks of testing to the on-board RO Plant and RapidAER® Reprocessors. Delivery to site at Pinderfields Hospital took place on the 12th week and the unit underwent a further two weeks of testing/staff training before going live and reprocessing patient scopes. All in all, a fairly swift operation from start to finish and one we're pleased to have been able to produce in line with the agreed schedule."
How straightforward was the build and did you face any challenges along the way?  
"As with all major mobile medical unit builds, there is always going to be unforeseen elements that pop up along the way. Our main challenge internally was finding a route for the temporary mains water and drainage to be connected to ensure the validation and commissioning of the on-board RO plant and RapidAER® Reprocessors could take place. Not having access to mains and drainage inside our onsite workshop meant sourcing contractors to carry out the work. The good news is we have the infrastructure in place for future builds of mobile decontamination units as a result."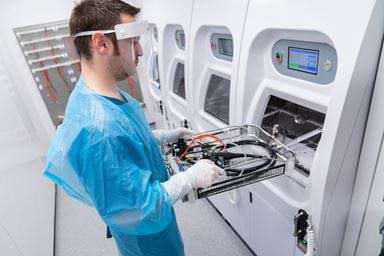 You've developed this unit in partnership with Cantel (UK) Limited. How has it been working with them?
"It's been a pleasure working with Cantel. Their technical expertise coupled with our extensive knowledge of mobile medical units meant together we have been able to produce a ground-breaking innovation for the endoscopy market. Undertaking a project of this scale meant there was multiple contractors and stakeholders involved throughout and having the support from Cantel and Veolia helped to streamline the production process."
What learnings will you apply to the build of future mobile decontamination units?
"We've a tried and tested solution now and a fantastic working model in Quest+ being utilised at Pinderfields Hospital, meaning next time around the whole experience will be more of an efficient and simplified operation. We still need to be aware of any changes in legislation and/or HTM guidelines, which we'll review on a regular basis to ensure we're fully compliant.
What's next in your production workshop?
"It's a busy time with the 2nd mobile decontamination unit build already underway and nearing completion. With the demand for gastrointestinal endoscopy set to exceed 2.4 million procedures per annum by 2019/2020, it's important we continually work to meet the demand. We've also another exciting project coming up, which will be another fresh challenge and a 1st for EMS so I'm looking forward to beginning work on this."
For more information on hiring the next mobile decontamination unit contact; 
jo.quarterman@ems-healthcare.co.uk