Back to news
Breast Cancer Awareness campaigns
Laura Nash
Published 09 April 2014
It's hard to have missed the recent hype around the 'no make-up selfie' trend that - while stemming from a fallout at the Oscars - transformed into a breast cancer fundraising campaign as tens of thousands of women encouraged each other to post pictures of themselves without make-up on social media networks.
The phenomenon raised a staggering £2m for Cancer Research UK, despite the idea having little to do with the charity in the beginning, which makes it a fairly unique campaign.
Creating hype and engaging people to support a worthy cause rarely happens accidentally. TakeNHS City and Hackney, who we worked with to launch a 'Be Breast Aware' Roadshow.
The campaign was conceived to share breast cancer information and advice among local women of all ages as part of Breast Cancer Awareness Month. It toured nine locations in East London and attracted more than 2,000 visitors with almost half of them actively taking part in an engaging competition.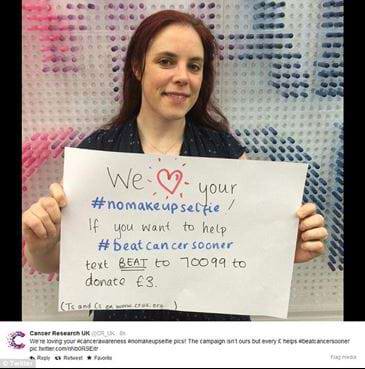 Pamela Froggatt, Communications Manager, City and Hackney PCT said: "The results of this campaign exceeded our expectations. We've found that face to face campaigns like this are the perfect way to communicate vital health prevention messages directly to local people- reaching them right where they are rather than waiting for them to visit their GP's surgery."
If you're looking for inspiration for a breast cancer awareness campaign - perhaps to support activity in October as part of Breast Cancer Awareness Month - then it can help to look further afield, to those working in other specialisms. Here are a couple of other recent healthcare face to face campaigns that have stood out…
Public Health England recently announced that they have taken to the road with a campaign to raise awareness of the importance of blood pressure monitoring. Inflatable pods will act as mobile testing points with brand ambassadors on hand to give out information, and local health professionals will offer free appointments to take blood pressure readings. Those patients who show a high reading will get a referral letter to take to their GP.
This month will also see cancer charity Tenovus launch its ManVan, which will travel around Wales providing support to people affected by prostate and testicular cancer. The 38ft American Motorhome has been specially converted with a masculine theme and has spaces for group and one-to-one counselling as well as online health checks.
Taking a campaign on the road can help widen its reach, engaging audiences with vital health issues in their community. Medical trucks can be specially fitted out to meet stringent NHS standards and so as well as communication, there is also the opportunity to offer treatment or diagnostic services.
If you'd like to talk to us about how we may be able to amplify your message or extend your treatment services in the community, please get in touch.