Back to news
Commendation for Innovation at Healthcare Awards
Jo Quarterman
Published 04 November 2019
Clinical capacity
It was a winning night for the EMS Healthcare team at the 2019 Building Better Healthcare Awards, as we were recognised for our innovation within the mobile healthcare industry. 
In the awards edition of BBH magazine they said: "Well worthy of a commendation according to the judges. EMS Healthcare's Quest+ Decontamination unit was the UK's first mobile endoscope decontamination facility. And, in just 16 months, a fleet of units have helped NHS trusts to safeguard over £5m – revenue that would have been lost due to departmental downtime.
Developed in response to demand from Healthcare providers; Quest+ contains reprocessing equipment from Cantel UK and RO plant from Veolia Water Technologies, has a minimal footprint, and can be installed on site in as little as two weeks. Units are currently being used in NHS trusts in Yorkshire, Leicester, London and Bristol, where they have made 1,088 days of reprocessing available; provided 87,040 scopes; kept trusts within the two-week cancer wait targets; supported continuity of job roles for endoscopy technicians; and safeguarded over £5m in revenue."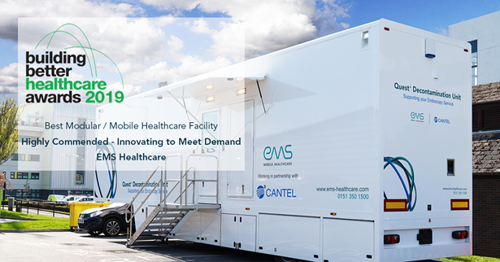 EMS Healthcare CEO Keith Austin said; "I was delighted to attend the BBH Awards this week.
The EMS Healthcare team were Highly Commended on Innovating to Meet Demand within the Best Modular / Mobile Healthcare Facility category – which is something we always strive to do within the mobile healthcare industry.
It's great to be part of a growing group of businesses striving to create solutions for the health service, that are continuing to make a real difference. Our latest innovation, Quad, a 4 unit mobile decontamination suite, is the largest in the UK, with 8 Cantel UK AER machines. Quad is set to launch next month in Leicester, and we are thrilled to be supporting the trust for the next two years whilst they build their new fixed facilities."