Back to news
Could same day emergency care units reduce long hospital stays?
Jo Quarterman, EMS Healthcare's Divisional Director of Clinical Capacity, assesses the latest data
Jo Quarterman
Published 24 July 2023
Clinical capacity
The latest report by the Health Foundation reveals a number of disturbing trends that impact directly on NHS patients and also threaten to undermine efforts to tackle health inequalities in the most deprived areas of England. 
The report 'Longer hospital stays and fewer admissions', highlights particular challenges around emergency care, which accounts for more than 80% of hospital bed days. 
The number of patients admitted for longer stays in hospital increased by 41,000 in 2022 compared to 2019. By contrast, more than half a million fewer patients were admitted for short stays over the same period.*    
These trends - a reversal of those seen in the decades prior to the pandemic - underline the intense strain on the NHS and raise questions about whether it can meet ambitious recovery targets.  There's little doubt that the recovery plans have been further hampered by the current programme of industrial action, which adds an additional layer of complexity for many Trusts.  
Limited hospital capacity 
The Health Foundation analysis suggests that because hospitals are at the limits of their capacity and length of stay has increased, hospitals have had to increase admission thresholds, in effect rationing care by admitting fewer patients. It is not clear whether the patients who might have been admitted in 2022, had more beds been available, were treated elsewhere or have gone untreated.   
From an EMS Healthcare perspective, the latest figures certainly reflect our experience with a number of NHS Trusts across the country in recent months.   
We partnered with the Mid and South Essex NHS Foundation Trust during the particularly challenging winter months, to launch an Ambulance Handover Unit as part of a collaborative project with East of England Ambulance Service NHS Trust. 
As demand for space and hospital services increased, emergency admissions and the number of people requiring hospital care also rose. Our Ambulance Handover Unit at Southend Hospital helped to alleviate ambulance handover delays. The mobile unit allowed the release of ambulances to deal with category one and category two emergency calls, while also providing a safe place for patients to receive clinical care, before being admitted to the emergency department. 
Tom Abell, Chief Executive at East of England Ambulance Service, gave this assessment: "When people call 999, the public expect the ambulance service to attend – units like this helped us to achieve that. It supported with the release of ambulance crews to respond to emergency calls with fewer delays, while enhancing patient experience."  
Ambulance handling units were a temporary fix – some Trusts have found that using virtual wards or by co-locating A&E triage units or SDEC units near acute hospitals have helped to reduce admissions. However, as the Health Foundation report points out, different care models have been implemented around the country in what it calls a 'patchwork manner', meaning that patients not admitted in some places or with some conditions, may not have been treated in hospital at all. 
The Foundation also says the most significant reductions in admissions were seen among people living in the most deprived areas. Emergency admissions between 2019 and 2022 dropped by 80,000 for those living in the most deprived areas, more than twice as much as the 35,000 decrease for those living in the least deprived areas. These trends risk exacerbating existing health inequalities, particularly as people living in more deprived areas are likely to have greater health needs than those in more affluent areas.  
Charles Tallack, Director of Data Analytics at the Health Foundation and one of the report authors, said: "Hospitals are stretched to the limit, with bed occupancy well above safe levels. Patients are staying longer in hospital than before the pandemic, due to a range of factors including the ongoing impact of COVID-19 and delayed discharges." 
"As a result, hospitals appear to have had little choice but to increase admission thresholds and reduce the number of patients being admitted, particularly in deprived areas of the country."   
Impact on GPs 
This, in turn, is continuing to have a knock-on impact on primary care, and here at EMS Healthcare, we have been working alongside GP practices over the winter months, to help ease their burden.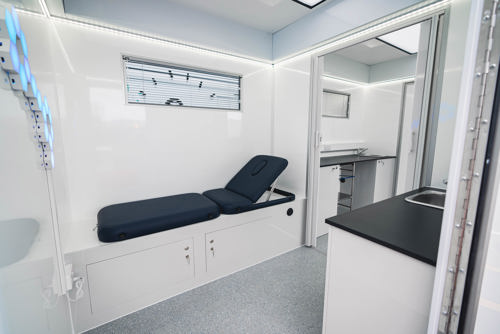 We partnered with Procare Health Ltd to support GP practices across Guildford and Waverley in Surrey, by providing a mobile Acute Respiratory Infection Hub. The winter wave of respiratory infections increased demand for appointments in what were already overstretched surgeries. 
Jane Fagan, Director of Operations at Procare Health, said: "Using a mobile respiratory hub enabled us to access the heart of communities and offer additional on-the-day appointments. Patients came on board and received an excellent clinical experience for early diagnosis and appropriate treatment.  This helped to reduce pressure on primary care and busy GP practices across the region." 
Our experience at EMS has shown that mobile hubs are a vital tool in supporting the relief of pressures on both primary and secondary care.  This reduces the risk of hospital admission by ensuring patients are seen quicker for diagnosis and relevant treatment. 
Last year, the Health Foundation calculated that an additional 23,000 to 39,000 general and acute hospital beds may be required by 2030/31 to deliver pre-pandemic levels of care to an ageing population. In January this year, NHS England committed to increasing the number of staffed beds by 5,000 by 2023/24.   
Much changed between 2019 and 2022. A global pandemic disrupted people's lives, causing huge damage to population health and demanding rapid and extensive changes in health and care services. This analysis suggests hospital care also changed.   
According to the latest data from NHS England, the Northwest has experienced the biggest increase in waits in the country, from 13% on the waiting list for more than four months in April 2019 (around average compared to other areas), up to 46.1% in figures for April 2023. 
The situation in the north generally and the Northwest specifically, is of even more concern, given the health inequalities that already exist here. 
At EMS Healthcare, we are proud to partner with public and private providers to reduce patient waiting times and tackle inequalities. There is no doubt that the use of mobile clinics is playing an increasingly significant role in delivering care to diverse communities and we stand ready, as always, to provide that essential support whenever and wherever it is needed.   
*Source: Longer hospital stays and fewer admissions - The Health Foundation