Back to news
Covid-19: Cross-organisational collaboration key to safely resuming cancer care services
Keith Austin
Published 11 June 2020
Clinical capacity
Whilst the NHS begins to resume non-COVID-19 elective procedures, it faces waiting lists exacerbated by the pandemic. Some of these lists were substantial before COVID-19 hit the UK, and the pause as the NHS battled the peak of the crisis will have dramatically increased them – the NHS Confederation recently announced the backlog could double to 10 million by the end of the year.
Whilst an immediate return to pre-pandemic levels is unrealistic – not least due to the necessary additional hygiene measures which must now be put in place – cross-organisational and multi-Trust collaboration could provide the key to safely resuming vital elective procedures. Keith Austin, CEO and founder of EMS Healthcare, considers the cancer diagnosis system in particular, looking at how the NHS can maximise private and public support to help get back on its feet.
As we enter the second half of the year, it's fair to say the NHS is by no means winding down in response to the pandemic. In fact, as elective procedures are resumed, the NHS now faces waiting lists substantially increased by the necessary pause in non-coronavirus care; the NHS Confederation recently stated that 10 million could be on waiting lists for NHS treatment by the end of 2020.
As it did in its swift pandemic response, the NHS is now looking to public sector and private providers to increase capacity for non-COVID procedures, whether that's staffing levels or appointment availability. 
Procedures, considered not urgent at the outset of the pandemic, could significantly impact quality of life for many patients; for example, cancer screening and diagnosis. Early diagnosis is linked to better treatment outcomes, and now that elective procedures are resumed, it's vital that screening capacity is increased to tackle growing waiting lists quickly.
NHS Cancer Alliances, which bring together different Trusts to improve efficiencies in cancer diagnosis, treatment and care, are an excellent model for cross-organisational working. By bringing together multiple Trusts, resources can be shared and maximised, ultimately to improve uptake in cancer screenings based on local need. One of the key aims for 2019/20 is to deliver on all eight waiting time standards for cancer, by increasing capacity, encouraging collaboration and brokering agreements with suppliers to balance supply and demand across the cancer care system.
For example, Cancer Alliances can arrange the use of a shared mobile screening unit across Trusts. It might be that different Trusts can access the unit on set days, or even that a single dedicated staffing team operates the unit, welcoming patients from multiple geographies. With waiting lists increasing - there are around 5,000 suspected cancer referrals per week by GPs in to the secondary care system – the sharing of resources can help the NHS maximise testing and staffing capacity and provide additional testing space in a cost-effective manner.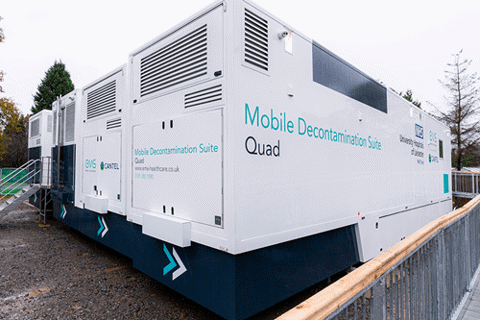 Individual Trusts have utilised mobile facilities to reduce waiting list pressures to great success before; for example, due to ageing endoscope reprocessing equipment across the University Hospitals of Leicester NHS Trust's estates, its hospitals needed assurance that endoscopy departments could continue diagnostic services without disruption. The Trust commissioned a bespoke high-throughput mobile endoscope decontamination unit, which was placed onsite at Glenfield hospital. It increased capacity across the Trust and regional Alliance and helped to reduce the time for patients waiting for diagnostic tests for conditions including bowel cancer.
Additional hygiene measures will also pose a challenge to Trusts when resuming cancer screening procedures. Environments must be COVID secure – in the case of endoscopy departments for bowel cancer checks, 'COVID minimised'. As well as extra cleaning and testing patients to ensure they aren't currently infectious, these measures might even necessitate significant reconfiguration of wards to allow staff and patients to socially distance.
Again, it will be most efficient for hospital departments to work collaboratively in these cases, to maximise staff and space available. Mobile medical units can be adapted to meet COVID secure requirements; complete disinfection and fogging machines can be run at the end of each day, hand sanitisers and temperature testing can be provided throughout the unit, extra space for additional PPE storage can be provided, and facilities can be easily reconfigured so that social distancing is possible and patient flow is not interrupted from arrival to procedure to exit. It enables Trusts to upscale their physical space capacity quickly, flexibly and removes pressure from the existing hospital estate.
Furthermore, these units can be placed in hospital COVID 'green zones', or even self-contained in a non-hospital community setting, to reduce the risk of COVID-19 infection further. By taking screening procedures away from 'red zones', patients who may have otherwise been wary of attending appointments due to infection risk will be reassured that all measures are being taken to ensure their safety.
Whilst the NHS should not be expected to immediately bounce back to pre-COVID levels, it's important for both public and private cross-organisational working as it gradually resumes non-COVID services. By maximising all available support, capacity could increase to help the health service handle growing waiting list levels, and ensures we do not lose people to procedures initially impacted by the pandemic.