Back to news
Creative solutions to support hospitals under pressure
Jo Quarterman
Published 19 October 2014
Healthcare environments play a role in patient recovery. Those that stimulate the senses with pictures, art, lighting, sounds and creative use of space can also stimulate healing. The impact and opportunity becomes more obvious when we look at the treatment of children, illustrated recently in the innovative use of digital signage that brought adventure to a children's hospital in the US.
A huge, awe-inspiring 50-foot wide and nine-foot high video wall was installed in the Alfred I. DuPont Hospital for Children in Delaware as part of a $270 million renovation project by Nemours Children's Health System.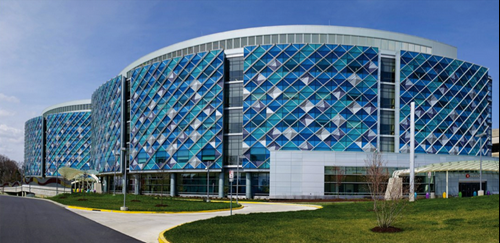 This was all about creating a fun, engaging and interactive experience in a new area of the hospital, which would spread joy to its younger patients.
The 'Discovery Zone' has delivered on all counts. According to its creators, Kinesis, it is the biggest installation of its kind in a hospital. It uses Microsoft Kinect gesture interaction technology as a way of enabling patients and their visitors to interact with a glorious, brightly coloured on-screen canvas that depicts an animated fantasy world.

The solution has been influenced by a range of healthcare and educational experts to ensure its success. As well as providing fun and entertainment, it also supports physical rehabilitation as patients move and stretch to 'play' with the creation.
Making a trip to the hospital is rarely fun, particularly through the eyes of a child, but with innovative use of techniques - both established and new - healthcare providers can make a real difference to the patient experience, creating an environment that's not just entertaining, but therapeutic too, and certainly less scary.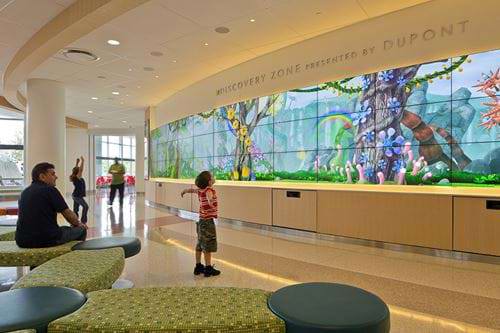 We work closely with healthcare providers to design the most appropriate and effective environments in our fleet of bespoke medical trailers. While this may be about ensuring that walkways are well lit and treatment areas can be dimmed, it also extends to choosing the right colours for the walls, and creating a warm, comfortable and inviting areas for treatment and recovery.
And we've seen the opportunities of working with the latest technology realised through our sister company, Event Marketing Solutions - experts in innovation and developing creative, engaging and interactive environments that meet a myriad of requirements.
We work with brand leaders in terms of materials, finishes, lighting and technology and so our creative team is at the cutting edge of new developments, which are perfect for therapeutic environments. All of our clinical environments meet stringent NHS standards, so the practicalities are taken care of too.
If you'd like to talk about how we can help to create a healthcare environment that enhances the patient experience – over and above meeting all of the practical needs for effective treatment - please get in touch, we'd be happy to talk.