Back to news
Diversity is key to clinical trial success: how mobile units are unlocking access to communities
Andy Morris, EMS Healthcare's Partnership Manager for Clinical Research, assesses one of the key challenges in delivering clinical trials.   
Andy Morris
Published 08 August 2023
Clinical research
The diversity of participants in clinical research is fundamental to ensuring better health outcomes, tackling disparities, and improving health equity. The efficacy of new vaccines and medicines can differ based on ethnicity, gender, age, sex and race. 
Under recent guidance from the Food and Drug Administration (FDA) in the United States, researchers and pharmaceutical sponsors will soon need to submit a plan for ensuring diversity among participants ('the Plan') which will affect trials worldwide. 
In future, the focus must be on racial and ethnic diversity, and the inclusion of other under-served populations relevant to disease areas, including crucial demographic factors. A proactive approach to involve all populations eligible to participate will be required - but as the cost of living continues to soar and with time as precious as ever, questions will undoubtedly arise: 
How can people be encouraged to get involved in research?
How can the burden on traditional settings, and on patients, be addressed?
What are the most effective methods of reaching underserved communities?
Earlier this year, the UK government announced that the Medicines and Healthcare Products Regulatory Agency (MHRA) is to make legal changes to streamline clinical trial approvals.
These have been aligned with the recommendations made in the review of commercial clinical trials led by Lord James O'Shaughnessy. His report, published in May, concluded that speeding up clinical trial approvals "will help make the UK one of the best countries in the world to conduct clinical research for patients and researchers."
Taking research into communities 
It's clear that there are major changes ahead and that's why diversity, access to research, and the safe acceleration of making new medicines available are top of our agenda. Our vision is to create a future where good health is within everyone's reach and we aim to achieve this by conducting research, engagement campaigns and recruitment events in the heart of communities using our state-of-the-art mobile clinics.
We believe there are significant advantages in reaching out to communities:
Mobile sites foster trust by establishing ongoing relationships and can accommodate language preferences, cultural practices and beliefs 
Participants feels respected and better understood
We work closely with local faith leaders and community figures to embrace cultural sensitivities and solidify relationships 
Strong personal connections to help dispel misconceptions or fears surrounding clinical research, especially in communities with historical under-representation 
The price of failure 
According to the National Library of Medicine, globally, more than 80% of clinical trials fail to enrol patients on time, resulting in an extension of the study or the addition of new study sites.* Both of which come at an immense cost to researchers and sponsors alike, not to mention the potential ethical consequences and inconveniences to those already enrolled. 
As a result, the remaining number of retained patients is often too small to adequately answer the original research question, again posing further challenges and delays. The flexibility the mobile delivery model provides, can enhance data collection by not only adhering to study protocols but gifting participants with choice and convenience, which reduces the likelihood of dropouts and missed appointments.
Participating in clinical trials can also be financially burdensome for individuals, especially those from lower-income communities. Mobile clinics alleviate this by reducing transport and parking costs, which is why EMS Healthcare units are sited in convenient public spaces, such as supermarket car parks. By reducing costs for those taking part, mobile clinics inherently promote diversity in trial participation, ensuring that individuals from all socioeconomic backgrounds have equal opportunity to participate.  
In our view, the mobile delivery model can transform the landscape of clinical trials.  It switches the focus to the needs of the volunteer and makes participation much easier, so it becomes part of their day rather than the time constraints of a traditional healthcare setting.
Mobile clinics achieve results
We are supporting our client base from academia and industry in not only achieving, but exceeding, enrolment, diversity, and retention targets. During the GRAIL NHS-Galleri cancer trial, close to 143,000 people participated on board our mobile units over an initial 10-month period. Our clinical staff and in-house team of retention callers achieved a remarkable participant satisfaction rate of 97%, and a projected retention rate of more than 90%.
Sir Harpal Kumar, President of GRAIL Europe, is effusive in his endorsement of the use of mobile:
"We've managed to reach people who usually don't take part in clinical trials and those who have difficulty accessing healthcare at all. We managed to enrol them in this trial, and we couldn't possibly have done that without using mobile clinics. We have greater representation from communities at the lowest ends of the socio-economic spectrum than we have from the wealthier communities, which is unprecedented." 
Importance of innovation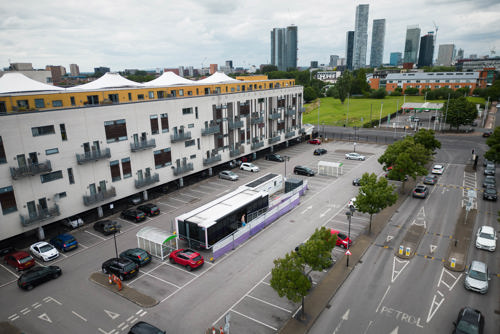 In EMS Healthcare's submission to the O'Shaughnessy review, we emphasised that with the NHS continuing to face extreme capacity pressures, support from the independent sector is critical if we are to maintain momentum in both clinical trials and research programmes. It gives sponsors control over the speed of recruitment to the trial, and it means hospitals and GP practices avoid unnecessary visitors when time and space are already at a premium.
The review recognised the importance of innovation, including the use of mobile clinics: "The NHS-Galleri trial demonstrates the benefit for large-scale, fast recruiting trials of using innovative trial approaches to facilitate more diverse and representative trial recruitment than has been achieved through traditional methods."
Amongst an array of other fantastic speakers, Lord O'Shaughnessy is to give a keynote address at The Great North Research Conference at Concorde Conference Centre, Manchester Airport on 21st – 22nd November 2023. The event is being staged by the National Institute for Health and Care Research (NIHR), and EMS Healthcare is proudly supporting and exhibiting within the Delivery Zone where we will discuss key topics such as this.
You can pre-register for the event here: https://sites.google.com/nihr.ac.uk/gnrc
Partnerships with purpose
The impetus for much greater diversity and representation in clinical trials is at the forefront of agendas across the globe and we are keen to collaborate with organisations from throughout the sector and believe that together, we can make a real difference.
If you would like to learn more about EMS Healthcare, the services we provide, or how we can work together please do get in touch.
*Source: Recruitment and retention of participants in clinical studies: Critical issues and challenges - The National Library of Medicine