Back to news
EMS forges ahead with new mobile cancer unit
EMS Healthcare is helping The Clatterbridge Cancer Centre deliver care closer to the community with the development of a bespoke mobile chemotherapy unit.
Clatterbridge in the Community will take to the road from early January, delivering treatment to patients at the Sealand Tesco site as a pilot prior to a roll out across Chester and the Wirral, reducing unnecessary stress from travel and helping to cut down waiting times.
Keith Austin, CEO at EMS Healthcare said: "We have been working closely with The Clatterbridge Cancer Centre to develop a mobile facility that will ensure they can deliver first class patient care close to people's homes, right in the heart of the community. The vehicle has been designed specially to meet their requirements and we anticipate that it will house the largest mobile chemotherapy treatment space in the country."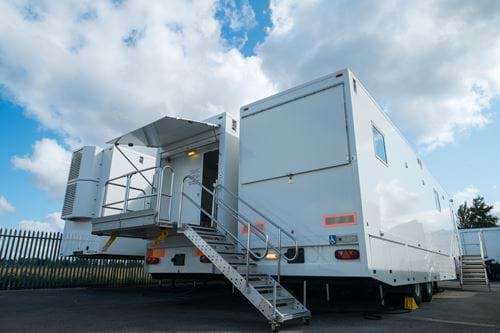 The Clatterbridge Cancer Centre is one of the largest networked cancer centres in the UK. From nine operating sites across Merseyside and Cheshire it treats over 27,000 patients a year, offering pioneering chemotherapy, radiotherapy and proton therapy treatments.
Kim Barrow, Head of Daycase and Outpatient Services at The Clatterbridge Cancer Centre said: "Over the last few months EMS-Healthcare has been working hard to turn our vision into reality. We are delighted with the progress and look forward to launching the new care unit to patients in the New Year."

EMS Healthcare's work with The Clatterbridge Cancer Centre follows a successful campaign delivered on behalf of cancer charity, Tenovus, which treated 15 chemo patients per day in South Wales. This mobile unit was the first of its kind in the UK.