Back to news
EMS Healthcare highlights: A look back on 2022
It's been a year of continued growth and success at EMS Healthcare. From welcoming new people across the business to launching our first ever company charity of the year, take a look at our highlights of 2022.
Keith Austin
Published 23 December 2022
Our people
We've grown significantly over the last 12 months, welcoming 84 new starters since January. We were also awarded the Investors in People Silver Award, which we've held since 2004, scoring above the average industry benchmark. As part of our ongoing commitment to our employees, we provided them with training and workshops ranging from financial wellbeing, to mental health awareness.
Our community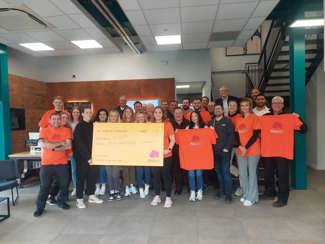 We launched our first ever company charity of the year, Maggie's Wirral, which was selected by our employee of the year. We're continuing to raise money and awareness for in 2023. We also donated to our local food bank in West Cheshire, an amazing team who we support each year with donations.
Our environment
At our head office, we've made some significant changes in and around the building to ensure we're progressing with our sustainability goals:
We have installed solar panels on our office roof 
Six EV charging points installed at HQ, with eight more expected by the end of 2023
We offset our Scope 1 and Scope 2 emissions to become carbon neutral in 2021
Implemented our own Sustainability Task Force, who organise 'Earth Days' days for employees to volunteer in local environmental initiatives 
Committed to replacing all of our units which don't meet the Euro 6 standard
As a company that cares about each other, they work we do and the world around us, we're proud to have made so many changes which will have a positive impact on our environment as we work together for a sustainable future. Thank you all of our clients, partners and friends who have helped us to bring people, communities and organisations together this year to drive better health outcomes for everyone.