Back to news
EMS Healthcare launches new mobile macular unit in response to increased wet AMD pressures
Jo Quarterman
Published 28 February 2017
Clinical capacity
EMS Healthcare, the UK's leading provider of mobile ophthalmology units, is thrilled to announce the launch of its latest macular unit, Quest Plus.
The new unit has been designed to help alleviate the growing pressures and demands facing NHS Trusts in association with macular disease, particularly wet Age-Related Macular Degeneration (wet AMD), an eye condition that causes individuals to lose central vision.
There are around 40,000 new cases of wet AMD in the UK each year, a figure that will continue to increase with the growing patient population. In response to heightened enquiries related to wet AMD, EMS Healthcare has modified the mobile medical unit to provide NHS Trusts with a practical solution to overcome capacity challenges and to meet the demand for macular services.
"Complementing our extensive fleet, the new 40-foot unit offers the flexibility to assist NHS Trusts with smaller patient volumes", explained Suzie Nield, business delivery manager at EMS Healthcare. "Quest Plus is suitable for NHS Trusts that have insufficient clinic space, are undergoing crucial hospital refurbishment works or are looking to take macular services out into the community and deliver care closer to patients' homes. The unit takes just one hour to set up and has the flexibility to move location on a daily basis."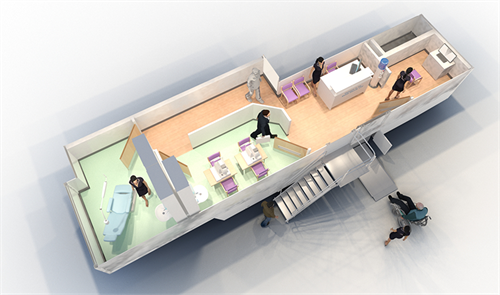 Offering a welcoming patient reception/waiting area, a visual acuity room, a consultation and OCT scanning room and an HTM compliant clean room to enable a one-stop follow up assessment and treatment service, without need for patients to re-enter the hospital system, the Quest Plus unit has all of the required facilities of a macular clinic within a compact, agile unit. It is fully DDA compliant and incorporates medical grade materials that meet infection control standards, meaning patient care is never compromised.
Suzie Nield continued: "Having worked with several NHS Trusts to deliver their mobile macular solutions, we understand the pressures that healthcare organisations face. It's vital for clinicians to be able to offer a clinical, safe and welcoming environment within the community for patients suffering from deterioration of vision, which is where Quest Plus comes in."
"The drive for more out of hospital and community care is embedded throughout the NHS England Five Year Forward view. As such, it's a priority of ours to continually expand our fleet of mobile medical solutions to assist with delivering uncompromised patient care outside of the hospital setting. Our recent recognition as a listed supplier on the NHS's Mobile Diagnostics, Theatres, Treatment and Therapy Services Framework, coupled with the launch of Quest Plus enables us to support NHS Trusts in alleviating their capacity pressures."