Back to news
EMS Healthcare launches their third temporary renal dialysis treatment facility
EMS Healthcare has launched a project with one of the world's largest independent renal care providers Diaverum to provide a temporary renal dialysis treatment facility for patients of Brighton & Sussex University Hospitals living in Eastbourne while a new ward is built.
Jo Quarterman
Published 18 February 2014
Clinical capacity
Once linked, the 140m2 Liberty Quad medical unit transforms into a modern clinical environment for clinicians to provide the life-saving treatment. The temporary healthcare facility includes a 6 bed ward, 2 private patient isolation rooms, clean and dirty utility rooms, spacious reception and waiting area, toilets and staff room including kitchen and shower.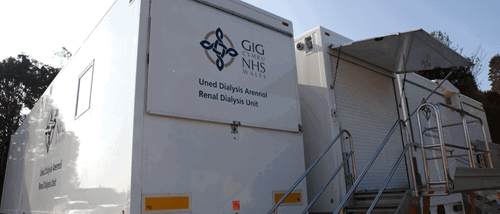 The temporary ward will be conveniently located in Eastbourne for the next nine months and operational six days a week; ensuring patients in the area can easily access vital renal treatment.
This is the third renal dialysis deployment for EMS Healthcare. Last year the company supplied a temporary unit to King's College Hospital, initially intended as a six-month temporary solution, its success has led to the contract being extended until 2015 as well as its patient capacity increased with the addition of a fifth linking medical trailer. It also deployed a unit to Victoria Memorial Hospital in Welshpool for 18 months while a permanent renal dialysis facility was built.
Keith Austin, Chief Executive at EMS Healthcare said: 
"With an ever changing landscape and ward pressures, healthcare providers need to respond quickly to provide quality patient environments where and when they need them. Many are moving to medical trailers to access temporary accommodation because the solution is ready made and efficient to set up and install. The Diaverum renal ward installation is a prime example of how rapid our service can be, the facility was on site and installed over a weekend ready for the renal equipment installation and testing."