Back to news
EMS Healthcare supplies Welsh Renal Dialysis unit
A temporary renal dialysis unit that will save patients in North Wales hours of travel and help improve their quality of life takes its first patients this week.
Jo Quarterman
Published 12 April 2011
The unique medical trailer called 'Liberty Quad' is the first renal unit for specialist mobile accommodation provider EMS Healthcare, which secured the contract following a competitive tender process last year. The dialysis treatment unit is located at the Victoria Memorial Hospital in Welshpool until a permanent renal dialysis facility is built. Before the unit opened, patients needing treatment had a two-hour commute to other sites - three times a week.
Patient wellbeing was key to EMS' design approach. The innovative dialysis unit was created by linking four 13.6m medical trailers together to create a high-quality eight- bed renal ward for patients to be treated.
EMS Healthcare managed the installation of two reverse osmosis filtration systems for dialysis via an experienced supplier.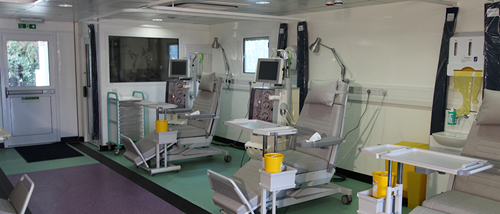 Jane Lucy, Acting Lead Nurse - Renal Unit said: "We are delighted that we are going to use this temporary facility while the permanent renal unit is being built.
This means that we will be able to get a local service up and running with a minimum of delay. This will save our patients from having to make frequent long journeys to other hospitals which will be better for their health, more convenient and save them the time and expense of travelling".
The renal unit is the first project to complete following the launch of EMS Healthcare as a standalone business by marketing roadshow specialist Event Marketing Solutions (EMS). The aim is to maximise the opportunities of the new-look NHS. 

Keith Austin, Chief Executive Officer at EMS Healthcare said: "After two years in the healthcare market, we believe there is great potential to build on our unique temporary accommodation offer through a standalone business.

"One of the major challenges for the new GP consortia as they commission new ways of providing cost-effective community-based care is the lack of suitable facilities."

"Our high-quality fleet of medical trailers is a proven solution when providers are looking for cost-effective and flexible temporary accommodation."