Back to news
EMS Healthcare unveils new mobile eye unit to serve Frimley Park patients
EMS Healthcare has designed a mobile eye facility as part of a new initiative with Frimley Park Hospital NHS Foundation Trust to offer vision saving treatment closer to patient's homes.
Jo Quarterman
Published 06 July 2014
Clinical capacity
The pioneering new service has recently been opened by Jeremy Hunt, Secretary of State for Health. It is intended to offer a one-stop diagnosis and treatment service for conditions such as wet age- related macular degeneration (AMD) - the most common cause of sight loss in the over 50s in the UK.
The Mobile Macular Unit uses one of EMS' popular Liberty medical trailers which comprises of two 40ft medical trailers to create two waiting areas, two private consultation rooms and two visual acuity channels as well as a scanning room and clean room for injections.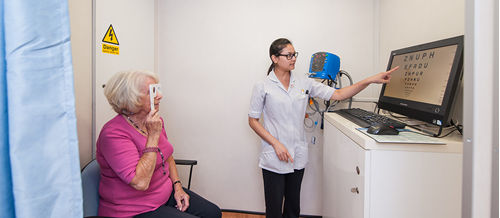 Typically, patients undergoing treatment for AMD will need injections every few weeks, so the unit will be stationed for a week at a time in different locations, seeing up to 50 patients per day.
Supermarket sites throughout the hospital's catchment area were chosen for their convenient access, free parking and proximity to patients needing the service. The host sites will include Tesco in Aldershot, Sainsbury's in Farnborough and The Meadows in Camberley. Another site in Basingstoke will follow along with other locations.
Keith Austin, CEO at EMS Healthcare said: "This is a fantastic example of a NHS Trust provider looking to improve patient services and boost their capacity with innovative solutions. From working on similar initiatives we recognise the extent of the benefits of embedding a service like this in the heart of a community. As well as reducing travel time and costs, it also introduces an element of convenience and incites greater efficiencies."
As well as enabling patients to be treated closer to their homes, the initiative will increase the Trust's capacity for treating patients in and around the area.
Frimley Park consultant ophthalmologist and lead for macular services Mrs Geeta Menon said: "The ophthalmology team at Frimley Park Hospital have always been trailblazers in providing innovative care for patients with eye disease.
"The opening of the mobile unit marks another step in our exciting journey to providing exceptional care. I am very proud to be part of the team that has helped make our dream for the service come true."