Back to news
EMS Healthcare wins contract for dual-purpose healthcare unit
Specialist mobile accommodation provider EMS Healthcare has created and deployed a dual-purpose temporary healthcare unit in just seven days of signing the contract - ensuring business as usual for hundreds of patients in Newcastle.
Jo Quarterman
Published 14 February 2012
Clinical capacity
Two mobile medical trailers were connected at the Blakelaw Clinic site to form a temporary, state-of-the-art GP and dental clinic during the building project for a new health centre delivered via the local LIFT Company for Newcastle Primary Care Trust.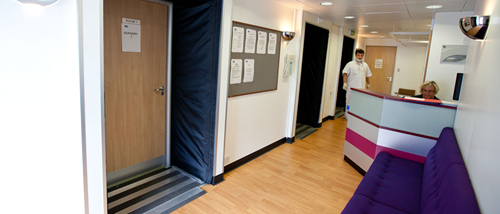 NNT LIFTCo contacted EMS-Healthcare earlier January to provide the super-speedy solution. EMS Healthcare prepared and delivered its Liberty unit from its large 'ready to go' fleet of medical trailers. It will be in situ for six months until the permanent clinic is ready.
The two consultation room unit will allow the clinic to deliver GP and dental services from the same site. The Liberty unit benefits from
• Reception area
• Private kitchens/staff area
• Disabled and staff toilets
• Full air conditioning and disabled access
• Fire alarm
• CCTV and intruder alarm
• External floodlighting
Paul Inglis at NNT LIFTCo said:
"We could not allow any disruption or inconvenience to patients using the existing healthcare services and we were impressed by EMS-Healthcare's can-do attitude.
"They offered us a simple, innovative, high quality solution that would enable GPs and dentists at the clinic to maintain their extremely high standard and provide a 'business as usual' service during the building project."
No major site preparation work was required. The Liberty unit was driven to the new location and ready within 24 hours. Once the building project is complete, the units will simply be disconnected and driven away.
Keith Austin, CEO at EMS Healthcare said:
"Because our units come installed with all the necessary fixtures and fittings needed to make it happen quickly, we were ready to meet the seven-day challenge and provide the perfect business continuity solution. All our client had to do was to move the medical and dental equipment into the mobile space and open the door to patients.
"Our ready-made clinical environments are a perfect solution for health providers needing to access high-quality accommodation quickly and easily."