Back to news
EMS puts a new spin on BHF roadshow
EMS has put a new 'spin' on the British Heart Foundation's national Heart Health roadshow, which visits South Wales this month.
Laura Nash
Published 06 September 2010
An eye-catching 'smoothie bike', which allows visitors to mix a fruit smoothie by pedalling, has been introduced as a new feature of the successful tour – project managed by EMS since 2009.
Located outside the 10.5 metre roadshow vehicle, the smoothie bike will attract visitors to the experience and underline two of the campaign's key messages – the importance of regular physical activity and a healthy diet.
South Wales is the fifth region to be visited by the roadshow, which targets people living in communities at high risk of developing heart disease.
The three-month tour will visit community events, supermarkets and high street sites across the region. It will also target employees at some of Wales' biggest workplaces, including the Corus steel plant in Port Talbot.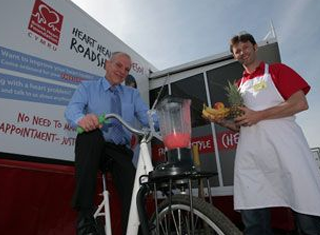 Since its launch in April 2009, the BHF Heart Health roadshow has engaged directly with 40,565 people and delivered 18,893 one-to-one heart health lifestyle checks. More than 60 per cent of visitors to the roadshows in London, Bradford, Manchester and Glasgow signed up for ongoing support through the BHF'sHeart Matters online information and support service. The campaign has been shortlisted in two prestigious national marketing awards schemes: the Field Marketing and Brand Experience Awards and the UK Event Awards.
Deborah Auty, BHF Project Manager, said: "This is the biggest face-to-face campaign the charity has ever undertaken, and to date we have reached more than 40,000 people in some of the UK's biggest towns and cities.
"For this new leg of the tour, we're going right into the heart of many smaller communities around South Wales, as well as engaging with staff at some of the region's largest employers."
EMS CEO Keith Austin said: "We are going into South Wales on the back of a very successful campaign in Scotland, where the highlight was our visit to two major festivals – the Mela arts festival and Truckfest.
"With such a substantial and ongoing campaign, it is important to continually refresh the experience. The smoothie bike is the perfect addition – bringing an eye-catching, interactive feature to the campaign. I'm confident it will be a great success."
The state-of-the-art BHF Heart Health roadshow vehicle - designed, built and operated by EMS - provides a mobile base for free heart health lifestyle checks that are conducted by trained BHF staff in on-board consultation booths. Using high profile branding and the latest patient management technology, the roadshow aims to engage with people who may not regularly see their GP. Visitors register for an appointment using touchscreens that capture basic information on their current lifestyle. If identified as at high risk of heart disease, they are urged to request a more detailed check-up with their GP.
The South Wales leg of the BHF Heart Health roadshow launched on 31 August and will run for three months, visiting Asda and Morrisons supermarkets, selected high street locations and major employers.