Back to news
EMS set to make a splash for charity dragon boat race
EMS will be making a splash this month to raise vital funds for its client the British Heart Foundation.
Keith Austin
Published 13 June 2010
A team of 20 hardy employees - including Keith Austin, CEO - will be competing in the annual Chester Charity Dragon Boat Festival on June 13.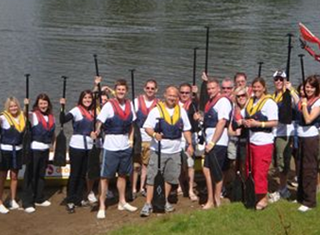 The event will see EMS take to the River Dee in Chester in a colourful, Chinese-style longboat. The team will be competing against more than 25 other crews, all intent on being crowned 2010 Dragon Boat Champions.
EMS selected the British Heart Foundation as its designated charity as it works with the organisation on a variety of awareness roadshows and marketing campaigns.
Keith Austin, Chief Executive Officer at EMS Healthcare, said: "We had so much fun taking part in last year's dragon boat race, that we couldn't resist taking up the challenge again.
"We're hoping to improve on last year's performance, which saw us finish eighth overall, while raising hundreds of pounds to support the vital work of the British Heart Foundation."
Andrew Johnson, project manager from the British Heart Foundation, said: "We're very grateful that the team at EMS is going the extra mile to support us. We have a great working relationship with the company, and it's inspiring to see that its employees are prepared to give up their spare time, and to get soaking wet, in order to help us raise funds!"
The event, now in its sixth year, has grown steadily from just nine competing teams to nearly thirty, and has become one of the largest dragon boat events in the UK.