Back to news
Enhancing patient experience with creative environments
Jo Quarterman
Published 25 March 2014
In the March edition of Healthcare Design and Management a couple of articles highlighted the need for creating a healthcare environment that enhances the patient experience – over and above meeting all of the practical needs for effective treatment.
In the dementia care supplement 'King's sets standard for hospital care' looks at how King's College Hospital has become the first in the country to create a dedicated dementia ward.
The Marjory Warren Ward is also a ward with a difference. Part of the hospital's Health and Ageing unit, it combines expert treatment with a wholly engaging environment.
A sensory room, non-slip floor and mood lighting aid the overall patient experience. But the pièce de résistance is the artwork that provides signage to support patients with orientation. This includes a panorama of London's skyline, as seen from the ward which depicts prominent buildings and locations to help patients determine where they live in relation to the hospital.
The second article, along a similar vein, is a focus on lighting. 'And then there was light' looks at lighting technology within healthcare.Again, the story is not just about choosing the best lighting to enable treatment of patients, or about practicalities such as the energy and cost saving benefits of LED lighting, it's also about enhancing the experience of patients while they're being cared for at the hospital.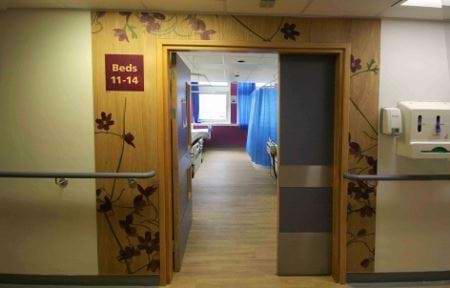 These ideas aren't just reserved for fixed building environments, they translate well into themobile medical world too.
The process of designing the best and most appropriate patient environments involves working closely with healthcare providers to meet all needs.
This may be ensuring that walkways are well lit and treatment areas can be dimmed. It may also involve choosing the right colours for the walls to create a warm and inviting reception area. Or it may take things one step further.
Taking inspiration from our sister company Event Marketing Solutions, we are experts in innovation and developing creative and engaging environments that meet a myriad of requirements.
We work with brand leaders in terms of materials, finishes, lighting and technology so our creative team is at the cutting edge of new developments, which are prime for creating therapeutic environments.
If you would like to enhance the patient experience and create a super sensory mobile hospital environment that offers colourful inside and out - please get in touch.