Back to news
Evolving Solutions to Meet Demand
Jo Quarterman
Published 10 February 2020
Clinical capacity
UK's largest mobile decontamination unit presents an innovative solution to developing hospital estates 
In 2019, innovative mobile medical unit provider EMS Healthcare announced the launch of the UK's largest mobile decontamination unit, in partnership with Cantel (UK) Limited. Introduced at University Hospitals of Leicester NHS Trust's (UHL) Glenfield General Hospital, the Quad Mobile Decontamination Unit is currently supporting theatre and endoscopy reprocessing whilst the hospital commissions and builds a permanent facility.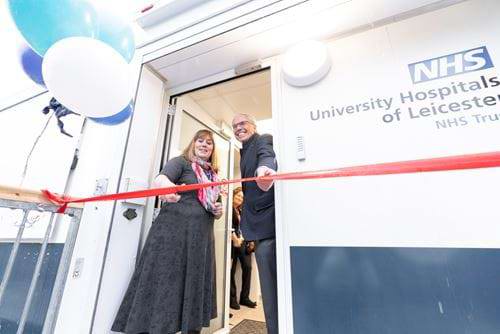 The pioneering unit ultimately represents the value of a collaborative, proactive approach when Trusts are faced with the prospect of capacity challenges or disruption to services. 
Forward 
t
hinking
With Glenfield General set to benefit from an exciting multimillion pound investment in new endoscopy facilities (as part of a wider redevelopment of hospital estates throughout Leicestershire, with physical work set to begin in 2021), UHL recognised the need for a flexible solution to provide a reliable stepping stone during this period. 
Following the unit's introduction in November last year, the hospital has seen an immediate boost to reprocessing capacity (by an additional 240 scopes per day). This has allowed Glenfield General to continue to deliver its endoscopy service, and also support the Alliance.  
A growing relationship
This innovation is the result of a collaborative and growing relationship between EMS Healthcare and UHL, who first partnered in 2018 on the multi-award-winning Quest+ Decontamination unit for Leicester General. Since its launch, Quest+ has proven central to the hospital's continuation of service, with onboard equipment providing vital support to the urology department which faced growing capacity demands. 
Quest+ represented a first-of-its-kind solution for the endoscopy market. Previously, healthcare providers facing disruption to decontamination services had to look to external decontamination services – often requiring additional investment in scopes – or move the existing decontamination suite to a new location within the estate, often resulting in ward closures.  
There was a clear gap in the market for an innovative solution that could save both time and money, which EMS Healthcare recognised; the company commenced a partnership with reprocessing equipment provider, Cantel (UK) Ltd and RO plant provider, Veolia Water Technologies, to bring the Quest+ solution to life. 
This initial unit has inspired a domino effect and has since helped NHS Trusts across the UK to safeguard over £5million* through responding directly to decontamination capacity challenges. The introduction of the new Quad units to EMS Healthcare's fleet symbolises a response to increasing demand for its innovative decontamination solutions. 
An e
xpanded service
The Quad Mobile Decontamination unit provides the greatest endoscopy reprocessing capacity of any unit in EMS Healthcare's fleet and is specifically designed to support larger Trusts and alliances in maintaining capacity during equipment upgrades, refurbishment, or, in the case of Glenfield General centralisation of existing facilities. 
When designing Quad, a number of important factors had to be taken into consideration in order to meet Glenfield General's immediate needs. The Trust required a forward-thinking solution that would maintain scope reprocessing ahead of the eventual rebuild, whilst also planning for increased capacity as service demand steadily rises over the coming years. There was also a need to support scope reprocessing across the wider Trust. 
UHL prioritised keeping services onsite to ensure reprocessing could be completed in good time, maintaining efficiencies and providing  a smooth continuation of service for patients. An onsite solution also, importantly, would enable Glenfield General to train staff with new equipment and develop team skillsets, while negating potential risks posed by sending scopes to an offsite service provider. 
Taking these factors into consideration, it was clear that a tailored mobile medical unit presented the most flexible solution to each of UHL's key requirements, and following the success of its Quest+ launch a year prior, EMS Healthcare represented the perfect partner to develop a new unit with. 
Working together
Collaboration was key throughout the design and development process and continues to support the unit's evolution. 
Working closely alongside the hospital's decontamination and estates team, EMS Healthcare commenced a reconfiguration of an existing unit, Quad, previously used as a renal dialysis suite. Jo Quarterman, Commercial Manager, recalled: "Providing a new unit on time and to spec is of paramount importance when working with innovative NHS Trusts, and so it was really beneficial to collaborate directly with the UHL team, as it allowed us to build a unit that accommodated their requirements in a matter of months." 
When commencing a project of this scale, EMS Healthcare always emphasises the importance of engaging all of a Trust's key stakeholders. The consideration of a wider pool of expertise, from conversations with health and safety to infection control and end users, is a vital way to scope out and troubleshoot issues before a unit arrives onsite. 
Quarterman continued: "I always make a point of encouraging Trusts to take a holistic approach when considering a mobile medical unit, and for endoscopy in particular it is vital you engage with your Authorising Engineer for Decontamination and microbiologists, to agree water testing protocols early on. 
"Engaging every stakeholder was also a priority for UHL, which was not only beneficial for their teams, but also invaluable for guiding our advice on everything from equipment to unit installation. Every aspect was considered, and it worked well, resulting in a unit that was delivered to spec and on time." 
At design and development stage, a range of factors need to be considered – not least the technical requirements for endoscope reprocessing. EMS Healthcare returned to existing relationships with Cantel (UK) Limited and Veolia to ensure the Quad unit was a complete fit for the Trust's needs. 
Quarterman added: "We'd established a good working relationship with Cantel UK and Veolia working on Quest+, and in a multifaceted market such as endoscopy, it's vital you work with the right partners. We're able to make a real difference with a joined-up approach." 
Nic Barnes, Sales Director at Cantel UK added: "Ever since we commenced our partnership with EMS Healthcare to deliver Quest+ in 2018, it has been our shared goal to address significant healthcare challenges through collaborative innovation. The Quad brief presented all teams with a fascinating endeavour, and to pioneer a new solution that can help Trusts achieve real cost and time efficiencies has been especially rewarding." 
An innovative solution to 
meet
demand
Designed in accordance with JAG guidelines and comprised of four trailers, the Quad Mobile Decontamination unit includes 8 RAPIDAER™ Endoscope Reprocessors, double that of Quest+. The unit also includes an OSRIS duplex RO system with its own external container and additional staff facilities. 
Quad also includes a SURESTORE™ Storage System, TRANSCOPE™ Lockable Carts, two double bowl endoscopy grade height adjustable sinks, integral RO plant, a track and trace system and the option to have an EDC Endoscope Drying Cabinet. The unit comes with a Gold Service Contract from Cantel UK to ensure the ongoing performance of the Cantel equipment, and is built in accordance with Health Technical Memoranda (HTM) guidelines. 
Meeting accreditation was a key requirement for UHL, with Claire Jones-Manning, Trust Decontamination Lead, noting that Quad has helped the Trust maintain its JAG accreditation for Glenfield General's endoscopy reprocessing services. 
Proactivity is key
UHL were especially proactive in identifying a future potential gap in their service delivery, and planning in accordance. It enabled the team to scope out a unit that identified its key requirements to ensure they never compromised on patient care. 
It has also enabled the Trust to provide Glenfield General with expanded reprocessing capacity at a time when demand is increasing, in no small part as a result of the National Screening Committee recommending in 2018 that bowel cancer screenings should begin ten years early at age 50. 
Today, Quad is providing UHL with a reliable, smooth continuation of services, to the ultimate benefit of Glenfield General's patients. At its core, the project has been a result of a proactive, collaborative approach that has pushed the mobile endoscopy market forward with a pioneering new solution. Trusts are being encouraged to emulate this proactive approach when faced with future changes to service demand. 
Quarterman finished: "It was fantastic to be there on the day of Quad's launch, and witness Glenfield General able to comfortably maintain its endoscopy reprocessing onsite, for the benefit of staff and patients. Proactivity cannot be emphasised enough, and can reduce all manner of issues that may face services, from increased demand to disaster recovery. Working collaboratively with UHL to build a practical solution to its eventual site development has shown the true value in tackling issues early, and head on." 
*Based on a flexible sigmoidoscopy procedure the Trust get paid £304 per procedure and the total scopes is 17,682 - the total amount of revenue safeguarded by the trusts due to the units maintaining their reprocessing capacity is over £5million. 
If you have a vehicle which you are interested in refurbishing into a mobile medical vehicle, please get in touch.