Back to news
Facilitating patient treatment – while on holiday
Jo Quarterman
Published 16 April 2014
Clinical capacity
Holiday season is upon us, and over the summer months families across the country will be packing their bags to take a well-earned break.
The need for vital treatment to continue with minimum disruption to the enjoyment of everyday life, has spurred the launch of a new mobile healthcare initiative to support the holiday period, which has been marked as a 'world-first' and offers an innovative take on taking care closer to the community.
In partnership with the Department of Health Victoria, La Trobe Valley Bus Lines, Kidney Health Australia and Monash Health, a metropolitan-sized bus has been fitted out to allow satellite haemodialysis patients to receive dialysis while on holiday.
The Big Red Kidney Bus will be touring Victoria in Australia later in the year, spending six weeks at each location. It will involve patients arranging their own accommodation near the location of the bus - they can then enjoy their holiday and visit the bus to receive their dialysis treatment as required.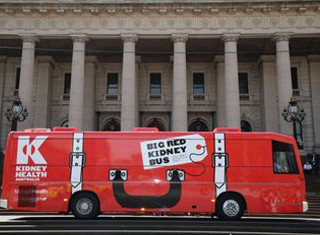 The initiative is utterly inspiring and it will be fascinating to hear the outcome.
For some time we have worked with healthcare providers, such as NHS Wales, Brighton & Sussex University Hospitals and King's College and Dulwich Community Hospital to provide a static temporary solution for delivering renal care – to either treat people closer to home or to provide extra space to support busy periods or during renovation work.
The Big Red Kidney Bus is taking this idea one step further by facilitating care not only closer to home, but closer to wherever patients may be to fit into their lifestyle.
We have the capability to take renal dialysis treatment mobile, if you'd like to talk about how it could work for you, please get in touch, we'd be happy to talk.