Back to news
Healthcare Estates: A Triple Success for EMS Healthcare
Jo Quarterman
Published 01 November 2017
Clinical capacity
Senior figures from NHS Trusts and private healthcare providers were among those able to personally experience our Quest+ mobile ophthalmology unit at this year's Healthcare Estates conference in Manchester.
The unit was one of three significant EMS Healthcare contributions at the 2017 event. An informative talk from CEO Keith Austin and an impressive exhibition stand – which included virtual reality (VR) headsets – also helped us engage with a range of delegates. While we'd previously attended the conference, 2017 was our first time exhibiting. But with our ideal audience in attendance, the reaction was heartening. It also gave us the opportunity to explain the benefits and financial advantages of using mobile medical units.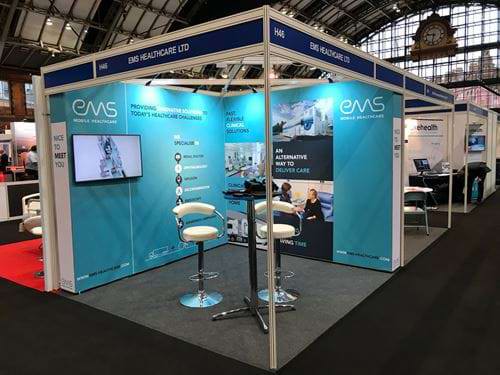 At our stand, the VR headsets were particularly popular. They let delegates tour our mobile units in a truly interactive experience, prompting several conversations about how best to ease the pressure on aging estates facing capacity issues. Outside, estates and facilities directors, architects, and project managers all got a close-up look at our 15.5m-long Quest+ ophthalmology vehicle. Parked at the entrance to Manchester Central, it attracted consistent attention. Once onboard, visitors got to explore the vehicle's layout, which includes two consultation rooms, a visual acuity lane, and a clean room.
In May, the unit received a positive welcome at its launch at The Royal College of Ophthalmologists Annual Congress in Liverpool. We're pleased to report the reaction was equally encouraging in Manchester! Our thanks, too, go to our equipment partners Topcon for providing a slit lamp and visual acuity test chart to showcase inside the unit.
Finally, Keith's talk was a big hit on the event's opening afternoon. With the NHS facing unprecedented pressures, Keith discussed the proven success of modular and mobile units in helping to hit waiting list targets.
The key, as ever, is planning, so Keith urged NHS Trusts to take a more proactive approach spotting potential problems. He cited some of the successful results EMS Healthcare has achieved, especially when there had been an early recognition of a potential patient backlog.