Back to news
Heart Health Takes Centre Stage at the Theatre
The Angina Monologues provided the perfect platform to promote the British Heart Foundation's (BHF) Heart Health roadshow when it took its own starring role outside the Theatre Royal Haymarket this weekend.
Laura Nash
Published 03 December 2010
The roadshow vehicle, designed, built and operated by roadshow experts EMS, took a pit stop from its busy national schedule to be at the British Heart Foundation's one-night-only comedy event in the London's West End on Sunday (5 Dec).
Hosted by Victoria Wood, the Angina Monologues is part of the BHF's campaign to raise awareness of heart disease in women. Victoria was amongst a star-studded line-up of women comedians who helped put the heart centre stage; also starring were Jo Brand, Katy Brand and Julia Davis.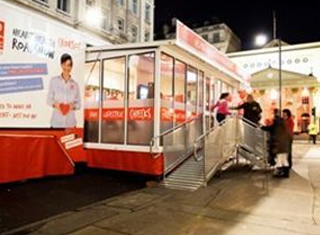 Victoria said: "Like most women, I thought heart disease was something that only affected men, like nose hair and not washing big dirty pans. We need to spread the word."
Deborah Auty, BHF Project Manager said: "We want to beat heart disease, one laugh at a time and having such an iconic figure such as Victoria supporting our campaign is fantastic. Having the Heart Health roadshow at the event was important because it's a really successful way of offering firsthand expertise and information. We were able to offer health checks to women going to the show as well as out and about doing their Christmas shopping."
The high-profile BHF branded mobile unit attracted a wide variety of visitors keen to take advantage of a free heart health lifestyle check. The BHF roadshow is currently touring heart disease 'at risk' areas across the UK, reaching people who may not regularly see their GP. Since its launch in April 2009, the BHF Heart Health roadshow has engaged directly with 40,565 people and delivered 18,893 one-to-one heart health lifestyle checks. More than 60% of visitors have signed up for continuing support through the BHF's Heart Matters online information and support service.
EMS Healthcare's Chief Executive Officer Keith Austin said: "We were delighted the unit could add value to this event. Awareness like this is great; face-to-face engagements with the public are hugely powerful and the number of lifestyle checks delivered to date demonstrate the fantastic work being done through the roadshow."