Back to news
High-tech 'Vision Van' offers free eye tests to drivers for Road Safety Week 2015
EMS Healthcare is helping Vision Express launch a new healthcare initiative backed by British racing champion Tom Ingram, which sees its 'Vision Van' touring the UK to offer drivers the chance to 'MOT' their sight.
Laura Nash
Published 25 November 2015
Press release
To help make UK roads safer, Vision Express has teamed up with the Road Haulage Association (RHA), offering free eye tests to both public and professional drivers for Road Safety Week 2015 (23-29 November). It follows statistics from road safety charity Brake showing that 1 in 4 are risking their licence by not having a regular eye test.
The Vision Van – a high tech mobile eye test unit – will tour the busiest truck and service stops in England over five days, including M25 South Mimms Welcome Break, Eddie Stobart's Rugby depot, M62 Burtonwood Welcome Break services, Washington Moto Services and M1 Leicester Forest East Welcome Break.
Drivers will be welcomed on-board to take advantage of free 30-minute eye examinations to best practice guidelines of the College of Optometrists. It includes an eye health screening and uses Optical Coherence Tomography, carried out by an expert optometrist from Vision Express.
EMS Healthcare fitted out its Quest Medical Trailer specially for Vision Express with a private consultation room for eye tests and a comfy patient waiting area. The clean white, contemporary environment appears clinical, reflecting its adherence to NHS-standards, yet is comfortable, with bold exterior graphics and eye health information on the inside. A large screen has been installed in the reception area to deliver a road safety video, further strengthening the message.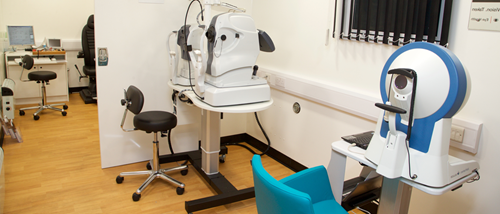 The campaign is being supported by RHA-sponsored British Touring Car Championship driver Tom Ingram. Although at 22 Tom has no need for vision correction, as a professional racing driver who is also a qualified HGV driver, he fully understands the importance of regular sight testing.
"If my eyesight isn't up to scratch then I can't do my job", says Tom. "Although I don't need to wear glasses right now, I know the importance of having regular eye tests. It's good to know that if a problem is identified early, it could be treated quickly and effectively."
Vision Express CEO Jonathan Lawson said: "With 50% of sight loss preventable , at Vision Express we're calling on drivers to have an eye test and protect their vision – and their licence – for life. It's worrying that for most of us, the only mandatory vision check is when we read a registration place from 20 metres as part of our driving test. As Cassie's Law has given authorities greater powers to revoke driving licences due to concerns about standards of vision, it's never been more important to know that your sight is up to scratch."
This is the second campaign that EMS Healthcare has managed for Vision Express this year. As part of National Eye Health Week (21-27 September) the Vision Van toured busy shopping areas, offering on the spot free eye tests and eye test vouchers.
Suzie Nield, Business Delivery Manager at EMS Healthcare said: "Service stations on some of the country's busiest roads have been chosen, so that we can educate as many drivers as possible about the importance of eye health. So far the Vision Van has proved hugely successful with hundreds of thousands of leaflets issued and appointment times fully booked, so we anticipate the second campaign will deliver similar or even better results."
Motorists across the UK will be offered a free eye test via an online voucher which can be redeemed at any of the retailer's 390-plus UK stores. It is available at www.visionexpress.com/road-safety-week/ and can be downloaded until 5pm on 30 November 2015 and can be redeemed until 31 December 2015.
The Vision Van journey can be followed via the hashtag #EyeTestsSaveLives