Back to news
Ice cream van takes campaign on the road
Welsh cancer charity Tenovus is using an eye-catching branded ice cream van for its summer roadshow to raise awareness of the dangers of skin cancer.
Laura Nash
Published 19 July 2010
The specially branded vehicle, managed by mobile marketing specialists Event Marketing Solutions (EMS) as an extension of its on-going work with the charity, is visiting summer family events across Wales throughout July.
Instead of ice creams, young volunteer staff will be offering advice and free 'squeezes' of sun cream to highlight the importance of protecting skin in the sun.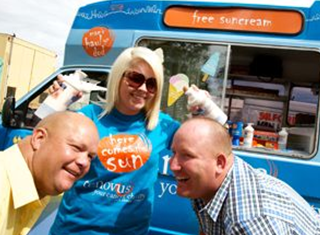 It is the latest in a series of mobile initiatives from EMS for the charity. The company already operates a weekly mobile chemotherapy unit on Tenovus' behalf in South Wales.
"Skin cancer has more than doubled in the last 10 years and it is now the most common cancer in 15-24 year olds," explains Dr Ian Lewis, Head of Research for Tenovus.
"We all enjoy the sun, but it is vital that everyone not only uses sunscreen, but reapplies it regularly and covers up when the sun is at its strongest. This is a fun yet effective way of putting across a vital health message while people are out and about enjoying the summer weather."
"We are delighted to work with Tenovus on this innovative campaign to convey a health message that everyone needs to take on board," said Keith Austin, Chief Executive Officer at EMS Healthcare. 
"As we know from our work on other campaigns, engaging with people face-to-face is a highly effective means of health promotion and we are sure the summer roadshow will be a success for Tenovus."
The Tenovus ice cream van will be at the following venues:- Royal Welsh Show - July 19-22
- Trecco Bay, Porthcawl - July 23
- Ponty in the Park - July 24
- Big Cheese Festival Caerphilly - July 25