Back to news
Innovating to Meet Demand
Keith Austin
Published 22 September 2019
Clinical capacity
First-of-its-kind mobile medical unit safeguards over £5m* for NHS trusts
In 2018, innovative mobile medical unit provider EMS Healthcare revolutionised the landscape of the endoscopy market with the launch of Quest+ Decontamination – the UK's first mobile endoscope decontamination unit. To date, the unit has helped NHS trusts safeguard over £5million* through responding directly to the challenges they are facing.
Identifying the need
The Quest+ journey began in 2017 when EMS Healthcare identified the need, and began reaching out directly to healthcare providers to understand their specific challenges. What started as a solution intended to support trusts during planned maintenance – when endoscope decontamination facilities reach the end of their lifecycle – evolved to respond to pressing capacity issues and disaster recovery.
Previously, when faced with these issues, healthcare providers had to either use external decontamination services – a complex process that often requires additional investment in scopes – or transfer the decontamination suite to a new location within the hospital estate, which can often result in ward closures. The added element of these issues often being unplanned, can mean there is a period where trust staff are also not being utilised.     
There was a clear gap in the market for an innovative solution that could save both time and money.
Design and development
With a complex gap in the market identified, EMS Healthcare assembled the right partners to bring the solution to life. Reprocessing equipment provider, Cantel (UK) Ltd and RO plant provider, Veolia Water Technologies were brought on board to ensure a complete understanding of the technical capabilities that would be required.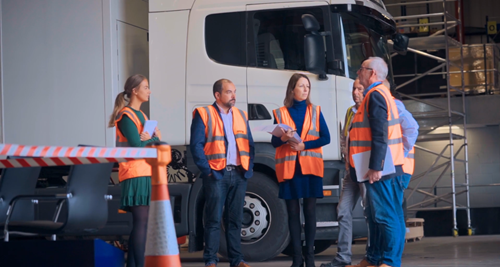 At design and development stage, there were a range of factors that needed to be considered – not least space. With limited space on hospital sites and location a priority, it was important that the unit's footprint was minimal, while still delivering on the technical requirements for endoscope reprocessing.
Jo Quarterman, Commercial Manager at EMS Healthcare said: "Working with the right partners on this project has been paramount. The healthcare market is a complex space, and while we have a great degree of knowledge ourselves, we knew that if we were going to create something that would make a real difference, it required a joined-up approach."
"We're continually reviewing how and where we can make improvements alongside our partners. A great recent example saw us implement Duplex water softener to cope with the water variants across the UK."
With the aim to provide a one-stop solution for hospital trusts' endoscope reprocessing needs, collaboration was an integral part of the design and development process, and continues to support the unit's evolution.
Nic Barnes, Sales Director at Cantel added: "When we put this partnership with EMS Healthcare and Veolia in place, we aimed to be able to support hospitals in the delivery of uncompromised care. This has now been realised and is resulting in real cost and time efficiencies for hospitals embracing the solution."
The solution
Designed in accordance with JAG guidelines, the Quest+ Decontamination unit enables a one-way flow for scopes with separate clean and dirty areas. Utilising top of the range equipment and facilities, features of the unit include four RapidAER™ Endoscope Reprocessors, Surestore® Long Term Storage, EDC Drying Cabinet, TranScope trolleys, a double endoscopy height adjustable sink, integral RO plant, and a track and trace system.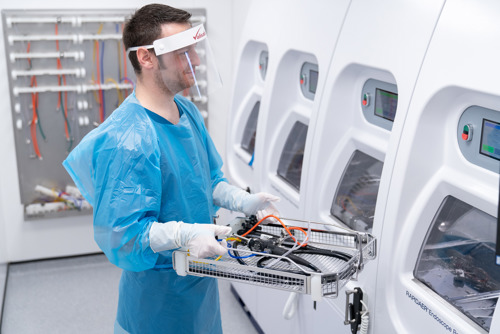 Crucially, the unit enables hospitals to continue endoscope reprocessing services without disruption, creating efficiencies either when in-house decontamination is running at full capacity, department refurbishments are required, equipment has reached the end of its eight-to-ten-year lifecycle, or during emergency disaster recovery situations.
Keith Austin, CEO of EMS Healthcare, commented: "With Quest+ Decontamination we have solved a major gap in the endoscopy market with a solution that enables hospitals to keep their reprocessing department running smoothly with no downtime – even when the unexpected happens.
"A key success with this innovation has been its speed of deployment. Once contracted, we are able to get a unit on site in as little as two weeks. This is a real benefit for hospital trusts who are under increasing pressure."
Mid Yorkshire NHS Trust embraces 'First of its kind' solution
Following the launch of Quest+ Decontamination, the Mid Yorkshire Hospitals NHS Trust became the first trust in the UK to bring the solution to their hospital estate.
Partnering with EMS Healthcare, the unit was introduced at Pinderfields Hospital in Wakefield, and continues to support endoscope reprocessing services while vital department refurbishment work takes place.
Angela Fairbank, Hospital Sterilisation and Decontamination Department (HSDU) Manager at Pinderfields Hospital, commented: "As a trust that promotes the use of research and innovation to solve healthcare challenges, we are extremely proud to be at the forefront of this new solution. Without the Quest+ Decontamination unit, we were facing a period of sustained disruption to services and patients. EMS Healthcare came to us with a solution that could not only prevent this from happening, but could create significant efficiencies for the department."
Keith Austin added: "The onsite launch at Pinderfields Hospital was the culmination of a considered and collaborative development process for Quest+ Decontamination. It's thanks to this approach that we were able to implement the solution for the first time with next to no teething problems – and I'm pleased to say things have continued in the same vein.
"We have to thank the team at Mid Yorkshire for their willingness to embrace innovation with the introduction of this unit. They paved the way for others to follow"
The domino effect
Following success at Pinderfields, demand for the single trailer solution surged, leading to the creation of a fleet of Quest+ Decontamination units ready to support NHS Trusts and private healthcare providers across the UK.
The University Hospitals of Leicester NHS Trust were second to contract the solution to their hospital estate, providing support whilst the trust centralises its numerous decontamination departments. Stationed at Leicester General Hospital for an initial 12 months, the unit is alleviating pressure through the creation of significant time and cost efficiencies.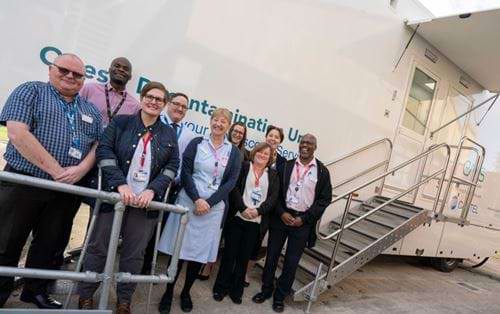 Claire Jones-Manning, Decontamination Lead at the University Hospitals of Leicester NHS Trust, commented: "When we made the decision to centralise our decontamination departments we were faced with a period of sustained disruption across the trust. Working with EMS Healthcare we've been able to avoid this, finding a solution that will ensure the smooth delivery of services for our patients.
"Crucially, EMS Healthcare's support has allowed us to take a proactive approach to tackling capacity challenges – a real benefit to the overall efficiency of our trust."
Jo Quarterman, Commercial Manager at EMS Healthcare, added "To have been able to follow up the deployment of our first mobile endoscope decontamination unit so quickly is a huge show of confidence in this solution."
Barking, Havering and Redbridge University Hospitals NHS Trust are the latest NHS Trust to follow suit, turning to the single trailer solution following plans for major refurbishment work.
Russell Snellgrove, Decontamination Manager at Barking, Havering and Redbridge University Hospitals, said: "When faced with a need for vital refurbishment works, the obvious side effect is major disruption to services. In the case of our decontamination department, we were faced with having to reduce patient lists, which would significantly increase waiting times. Instead, EMS Healthcare provided us with a solution that could be deployed quickly and safely on site, enabling the smooth transition of services for the trust.
"In the short time the unit has been on site it has already had a hugely positive impact on patient satisfaction. The trust is operating in line with our 2-week waiting time target, and we've been able to open a fourth endoscopy procedure room within the hospital as a direct result of increased efficiencies."
To date, over 17,680 scopes have been reprocessed inside Quest+ Decontamination units, with three units currently on site and a fourth ready and available for deployment, this number will continue to rise in the coming months.
Learnings: Getting it right
Just 18 months since launching the solution, EMS Healthcare's CEO Keith Austin, describes some of the learnings that have come to light throughout the process:
"If working with hospital trusts has taught us anything, it is: do not underestimate the time it takes to refurbish or to recover in emergency situations. Even with planned refurbishment, this can often take longer than expected. There has to be an alternative in place for decontamination services when things go wrong, and this unit provides a real opportunity for proactive planning to minimise downtime. The units are designed to be used as an integral part of the hospital estate, and therefore we do encourage trusts to get maximum value out of the solution through solid planning. 
"Collaboration really is key. Not only getting the right expertise around the table, but making sure stakeholders internally are engaged and aligned with the approach at the outset. This only makes things more effective in the long term – from speedier deployment to the well-oiled operation of the unit.
"Finally, once you launch a solution like this, its development has to remain front of mind. We are constantly upgrading our facilities to ensure they remain best in practice and are aligned with new legislations. The issues hospital trusts are facing are becoming increasingly complex, and we have to make sure the unit continues to respond directly to their needs. This is something I'm proud to say we are continuing to do with Quest+, with even more advancements planned in the coming months."
The next step: Providing a full solution
Listening to the market, in early 2019 EMS Healthcare unveiled plans to take its existing endoscopy offer to the next level, with the launch of Trilogy+, a state-of-the-art temporary mobile endoscopy facility capable of providing Trusts with additional scoping capacity.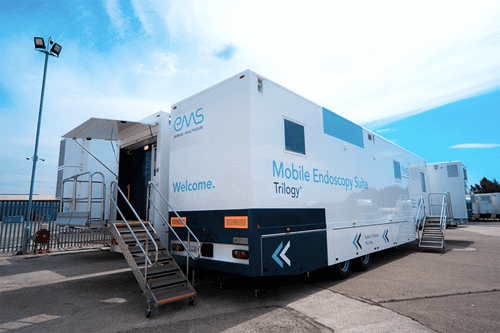 Utilising the latest reprocessing equipment, the unit is designed to maximise efficiencies and throughput, with features of the unit including JAG accredited facilities and the latest piped medical gas system (which is HTM 02-01 compliant). The industry leading equipment will give hospitals the capability to reprocess an impressive 6 scopes per hour – allowing trusts to significantly increase the number of procedures they deliver.
The layout of the unit has been optimised to provide trusts with a complete and efficient endoscopy solution, from procedure through to decontamination. It includes a spacious, dedicated decontamination suite, three recovery bays fitted with piped oxygen and suction, two seated recovery areas, nurse station and toilet.
The inclusion of the dedicated decontamination suite ensures the Trilogy+ endoscopy unit offers full continuity of service and includes all features of Quest+ Decontamination.
The announcement follows a change in recommendation from the National Screening Committee on bowel cancer screenings, now recommended to begin at the age of 50, ten years earlier than previous.
Keith Austin, CEO at EMS Healthcare, said: "This is a significant step forward for the endoscopy market. Not only will it make a real difference to the marketplace, addressing pressing healthcare challenges including patient waiting times, capacity issues and continuity of service, but it will provide a first-class patient experience."
*Based on a flexible sigmoidoscopy procedure the Trust get paid £304 per procedure and the total scopes is 17,682 - the total amount of revenue safeguarded by the trusts due to the units maintaining their reprocessing capacity is over £5million.
If you have a vehicle which you are interested in refurbishing into a mobile medical vehicle, please get in touch.