Back to news
Innovative Mobile Endoscopy Unit created to Meet NHS Demand
Jo Quarterman
Published 25 August 2019
Clinical capacity
EMS Healthcare responds to change in bowel cancer screening guidelines with state-of-the-art facility.
Innovative mobile medical unit provider EMS Healthcare has broadened its endoscopy offer with the launch of Trilogy+, a state-of-the-art mobile endoscopy facility which will provide Trusts with additional scoping capacity, in light of recent changes to bowel cancer screening recommendations.
The National Screening Committee now recommends bowel cancer screenings to begin at the age of 50 – lowered from 60, which has caused an immediate surge in demand for endoscopy services. In April 2020, the Faster Diagnosis Standard is also set to come into effect, with NHS trusts expected to give a definitive diagnosis on cancer within 28 days of referral. The Trilogy+ facility will prove a key resource for NHS Trusts going forward, as the number of procedures rise substantially.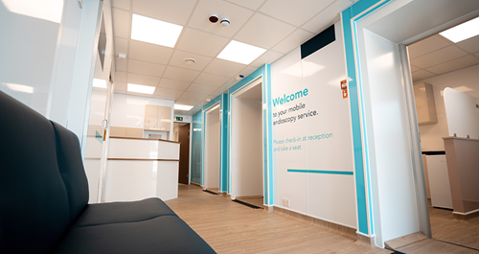 Designed and built to the latest JAG guidelines, the self-contained endoscopy care unit can be deployed on the hospital site or in a community setting allowing endoscopists to perform a range of diagnostic and therapeutic procedures, with the capacity to deliver +24 JAG points per day. The layout of Trilogy+ is optimised throughout to provide NHS Trusts with a complete endoscopy solution, from procedure through to decontamination, prioritising first-class patient care with a comfortable staff environment.
Utilising state-of-the-art decontamination equipment, provided by Cantel UK Limited, the unit can reprocess up to 6 scopes per hour ensuring the minimum amount of scopes are required to deliver a cost effective and efficient service. To ensure everything keeps running, the unit is backed by a Gold PPM (Planned Preventative Maintenance) contract, giving Trusts total assurance.
Other features of the unit include a procedure room fitted with a fully integrated piped medical gas system, with CO2, Entonox, oxygen and suction (HTM 02-01 compliant), a private consultation room, three recovery bays, two seated recovery areas, a nurse station, reception area, bathroom facilities and a spacious decontamination suite.
The inclusion of a dedicated decontamination suite ensures Trilogy+ includes all features of EMS Healthcare's market leading decontamination unit: Quest+.
Keith Austin, CEO at EMS Healthcare, commented: "Each year almost 42,000 people are diagnosed with bowel cancer, making it the fourth most common cancer in the UK. The lowering of the recommended screening age in England and Wales has therefore been a really positive step forward, as it has the potential to save thousands of lives over the coming years.
"To ensure this move is a success, it's vital that NHS Trusts have the resources to deal with a sharp increase in demand on endoscopy services, especially with the Faster Diagnosis Standard just around the corner. We simply cannot have patients facing delays to receive potentially life-saving diagnostic tests."
EMS Healthcare work closely with NHS Trusts to provide flexible solutions based on pressing requirements. Whether it is to provide additional capacity, or continuity in the event of major disruption such as refurbishment works or disaster recovery. With Trilogy+, healthcare providers have the option to hire staff and scoping equipment with the unit, based on individual needs.
Keith added: "With Trilogy+, we have redefined standards within the mobile healthcare industry. The unit matches the latest facilities found onsite at hospitals, and crucially, prioritises patient experience. It will provide Trusts which much needed additional scoping capacity in light of the updated screening requirements, and we're really looking forward to announcing our first NHS Trust partner in the coming months."
Want to see more? Take a tour of the Trilogy+ mobile endoscopy unit with EMS Healthcare Commercial Manager, Jo Quarterman.
If you have a vehicle which you are interested in refurbishing into a mobile medical vehicle, please get in touch.