Back to news
Innovative Mobile Solution Meeting NHS Demand
Jo Quarterman
Published 18 February 2019
Clinical capacity
First fleet of mobile decontamination units creating significant efficiencies for endoscopy departments.
Endoscopy departments across the UK are benefiting from access to the UK's first fleet of mobile decontamination units, from leading mobile medical unit provider, EMS Healthcare Ltd. Quest+ Decontamination is a ground-breaking innovation designed to save hospitals considerable time and money.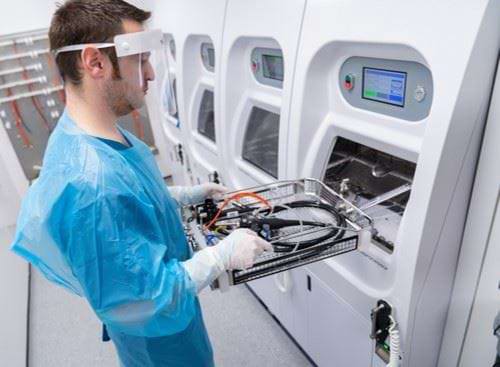 With this new fleet, hospitals can continue endoscope reprocessing services without disruption, creating efficiencies either when in-house decontamination is running at full capacity, department refurbishments are required, or equipment has reached the end of its eight-to-ten-year lifecycle.
The units, which have been designed in accordance with JAG guidelines and developed in partnership with Cantel (UK) Limited, include four RapidAER™ Endoscope Reprocessors, a double endoscopy grade height adjustable sink, integral RO plant, a track and trace system and clean and dirty areas enabling a one-way flow for scopes.
The University Hospitals of Leicester NHS Trust is one of the latest trusts to bring the Quest+ Decontamination unit to the hospital estate. Collaborating with EMS Healthcare and Cantel (UK) Limited, the unit will be stationed at Leicester General Hospital for 12 months, alleviating pressure whilst the trust undergoes centralisation of its decontamination departments.
Claire Jones-Manning, Decontamination Lead at the University Hospitals of Leicester NHS Trust, commented: "When we made the decision to centralise our decontamination departments we were faced with a period of sustained disruption across the trust. Working with EMS Healthcare we've been able to avoid this, finding a solution that will ensure the smooth delivery of services for our patients.
"Crucially, EMS Healthcare's support has allowed us to take a proactive approach to tackling capacity challenges – a real benefit to the overall efficiency of our trust."
The new contract at Leicester follows the successful deployment of the first Quest+ Decontamination unit at Pinderfields Hospital, Wakefield.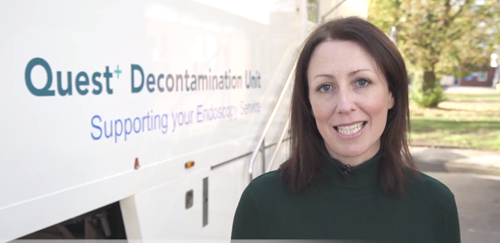 Jo Quarterman, Commercial Manager at EMS Healthcare, added "To be able to follow up the deployment of our first mobile endoscopy decontamination unit at Pinderfields Hospital so quickly is a huge show of confidence in this solution. When developing the Quest+ Decontamination unit, we worked closely with leading healthcare providers and market experts to create a solution that could address capacity challenges just like this, so it is especially encouraging now to see the unit having an impact on the ground." 
A domino effect
Introducing a fleet of four mobile decontamination units has allowed EMS to respond to increasing demand, with Barking, Havering and Redbridge University Hospitals NHS Trust being the most recent to follow suit. To date, over 6,000 scopes have been reprocessed inside the mobile units, with this number expected to continue to rise in the coming months.
Russell Snellgrove, Decontamination Manager at Barking, Havering and Redbridge University Hospitals, said: "When faced with a need for vital refurbishment works, the obvious side effect is major disruption to services. In the case of our decontamination department, we were faced with having to reduce patient lists, which would significantly increase waiting times. Instead, EMS Healthcare provided us with a solution that could be deployed quickly and safely on site, enabling the smooth transition of services for the trust.
"In the short time the unit has been on site it has already had a hugely positive impact on patient satisfaction. The trust is operating in line with our 2-week waiting time target, and we've been able to open a fourth endoscopy procedure room within the hospital as a direct result of increased efficiencies."
The power of partnerships
EMS Healthcare has officially partnered with reprocessing equipment provider, Cantel (UK) Ltd, and RO plant provider, Veolia Water Technologies, on the Quest+ Decontamination units. Collaborating in this way has allowed EMS Healthcare to provide trusts with a fully self-sufficient solution for all decontamination needs.
Nic Barnes, Sales Director at Cantel, said: "When we put this partnership with EMS Healthcare and Veolia in place, we aimed to be able to support hospitals in the delivery of uncompromised care. This has now been realised and is resulting in real cost and time efficiencies for hospitals embracing the solution."