Back to news
Largest temporary renal dialysis unit deployed at King's College Hospital
A temporary renal dialysis unit at King's College Hospital NHS Foundation Trust has been increased in size to maximise efficiency, enabling the treatment of a greater number of patients.
Jo Quarterman
Published 28 January 2014
Clinical capacity
The Liberty Quad unit, which links four 13.6m medical trailers together, has been providing essential care to hundreds of patients at the Trust's Dulwich Community Hospital site since it was installed by EMS-Healthcare in February last year.
Initially intended as a six-month temporary solution, its success has led to the contract being extended until 2015 as well as its capacity increased.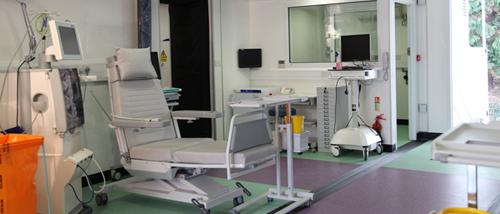 The addition of a fifth medical trailer has created an eight-bed ward, plus a dedicated recovery bay and spacious clean utility storage as well as a large comfortable working station for nursing staff. It is the largest single unit healthcare facility to be deployed by EMS-Healthcare.
Keith Austin, CEO in EMS-Healthcare said: "We took on board the Trust's feedback and made significant improvements to the unit to help maximise efficiency and provide a more comfortable and spacious workplace for nurses to treat their patients.

"A major benefit of the Liberty Quad Plus facility is that it can be deployed quickly and efficiently as there is no structure to build or major site preparation required. The fifth unit was simply driven onto site and all fit out changes made over a weekend to ensure minimal impact on patient service."
The temporary renal dialysis unit provides the ultimate flexible solution to estate management and clinical teams, ensuring King's College Hospital NHS Foundation Trust can continue to provide high levels of life-saving care. The facility is operational six days a week delivering three sessions per day to groups of eight patients at a time.