Back to news
Launch day success for NHS Trust love bug roadshow
A Valentine's themed roadshow launched by NHS Oxfordshire to encourage testing for the 'love bug', Chlamydia, saw more than 201 young people tested on its first day – the number the Trust would normally test in a week.
Laura Nash
Published 18 April 2010
The innovative social marketing initiative is targeting 15 to 24 year olds, with an eye-catching mobile unit, fully equipped with Chlamydia screening kits and testing facilities.
The unique vehicle has been developed by healthcare roadshow specialist, EMS who will manage the 10-day tour; visiting busy shopping areas and nightspots across Oxford city centre in the run-up to Valentine's Day. The campaign launched on 8 February at an Oxfordshire high school.
Angela Baker, Consultant in Public Health - Health Improvement at NHS Oxfordshire explains: "We were looking for a fresh approach to target young people aged between 15 and 24, who fall into the 'high-risk' category for Chlamydia.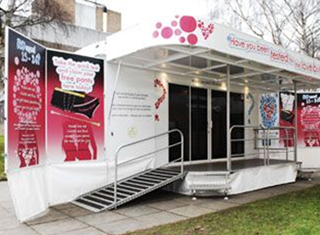 "Not everyone wants to visit a sexual health clinic and our Valentine's roadshow will give easy access to information and testing facilities so they can get themselves tested there and then."
The roadshow has been designed to maximise footfall; visiting locations that are popular with young people and using a specially trained promotional team, music, giveaways and Bluetooth marketing to draw in the crowds.
EMS has planned and co-ordinated healthcare roadshows across the UK, including the award-winning 'SHO-me' sexual health campaign for NHS City & Hackney last year, which helped the PCT almost triple its figures compared to clinic attendance and increase engagement with males from 10 percent to 53 percent.
Keith Austin, Chief Executive Officer at EMS Healthcare, comments: "If they won't come to you, then you can go to them - and taking screening services into the community helps NHS trusts engage with target audiences that can often be difficult to reach through traditional channels.
"Over the last year we have worked with four PCTs to deliver mobile sexual health campaigns – achieving strong results, with a previous Chlamydia initiative doubling its screening targets."

NHS Oxfordshire's roadshow is timed to coincide with Valentine's Day and will run from 8 - 17 February 2010, with a combination of daytime and evening events.