Back to news
Leicester NHS Trust brings innovative solution to developing hospital estate
Jo Quarterman
Published 10 December 2019
Clinical capacity
UK's largest mobile decontamination unit has been launched at Glenfield General Hospital
The University Hospitals of Leicester NHS Trust has partnered with innovative mobile medical unit provider EMS Healthcare and Cantel (UK) Limited to launch the UK's largest mobile decontamination unit.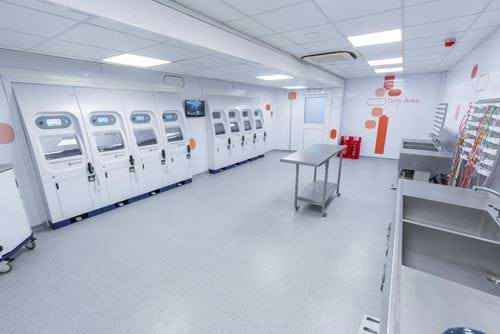 Contracted for two years, the Quad Mobile Decontamination Unit has been introduced at Glenfield General Hospital in Leicester to support theatre and endoscopy reprocessing services whilst a permanent facility is being built and commissioned. The innovative solution is set to immediately boost reprocessing capacity, by an additional 240 scopes per day. It will provide a reliable stepping stone to keep services running smoothly without disruption.
The unit will be the second EMS Healthcare mobile decontamination unit that the Leicester NHS Trust has contracted. The market-first and multi-award winning Quest+ Decontamination arrived at Leicester General Hospital in September 2018, and was contracted for a further two years. Since launch, Quest+ has been central to the continuation of service, with its on board equipment providing vital support to the urology department.
Designed in accordance with JAG guidelines and comprised of four trailers, the Quad Mobile Decontamination unit includes 8 RapidAER™ Endoscope Reprocessors (double that of Quest+), an OSRIS duplex RO system with its own external container and additional staff facilities. Also included is a Surestore® Long Term Storage, TranScope trolleys, two double bowl endoscopy grade height adjustable sinks, integral RO plant, a track and trace system and the option to have an EDC Drying Cabinet.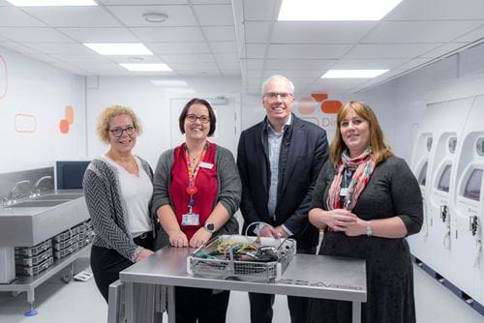 Claire Jones-Manning, Trust Decontamination Lead at the University Hospitals of Leicester NHS Trust, said: "We brought one of the first Quest+ units onto the Trust estate last year and it was fantastic for us, but we soon found we needed more capacity. That's when we gave EMS Healthcare a call about getting a larger unit, they didn't have one on their fleet but redesigned one of their existing units to accommodate our requirements. Quad arrived at Glenfield Hospital a few months later. It's been brilliant to work with the team and have input from the start of the project. EMS Healthcare have been a pleasure to work with and they've really paid attention to all the little details. Quad's also helping out with our JAG accreditation so we're really happy."
Henry Chadwick, Director at Chadwick Design and Project Management Ltd, advised the Trust on the groundwork required for the unit and ensured it was fully HTM compliant.
Jo Quarterman, Commercial Manager of EMS Healthcare, said: "It was brilliant to be at the unit's launch in Leicester and witness the positive response from the University Hospitals of Leicester team in-person. You could tell straight away what this first-class facility means to them – it's going to be a real game changer for their day-to-day work.
"We've also got to give huge praise to the decontamination team and also the estates team for their help in this project – it wouldn't have been possible without their support in preparing the ground work for the unit. We're now looking forward to seeing the real difference Quad Decontamination will make".