Back to news
Mobile Acute Respiratory Infection Hub supports GP practices ahead of winter pressures
Leading provider of mobile healthcare spaces, EMS Healthcare have partnered with Procare Health Ltd to support GP practices across Guildford and Waverley by providing them with a mobile Acute Respiratory Infection Hub.
Laura Nash
Published 25 April 2023
Clinical capacity
The current winter wave of respiratory infections and increasing demand for appointments is providing hard on already overstretched GP practices. 
Jane Fagan, Director of Operations for Procare Health Ltd, said: "Using a mobile respiratory hub has enabled us to access the heart of communities and offer additional on-the-day appointments."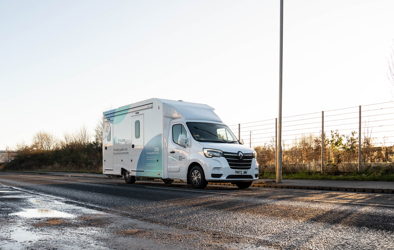 "Patients can come on board and receive an excellent clinical experience for early diagnosis and appropriate treatment, which helps to ease pressure on primary care and busy GP surgeries across the region."
The Acute Mobile Respiratory Infection Hub increases clinical capacity and convenient access to care for patients, creating additional appointment slots to help relieve pressures in both primary and secondary care. This reduces the risk of hospital admission, by ensuring patients are seen quicker for diagnosis and appropriate treatment.