Back to news
Mobile Clinic Improves MMR Vaccination Rates
An eye-catching mobile immunisation clinic commissioned by NHS South West Essex has significantly improved MMR vaccination rates among at-risk children.
Laura Nash
Published 27 August 2008
The 10-week roadshow campaign, which offered on-the-spot vaccination at schools, colleges and busy community locations, delivered a total of 1,313 vaccinations.
The PCT exceeded their MMR vaccination target of 800 and successfully managed to enhance their campaign by extending their immunisation programme to include other vaccinations - including HPV and Meningitis C.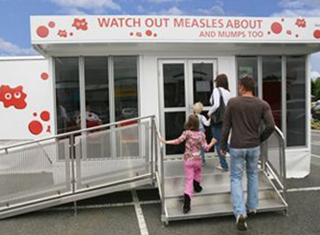 The high-profile campaign was commissioned in response to an outbreak of mumps and rising cases of measles. An estimated 20,000 children in the area had not completed their full MMR vaccination course at the start of the campaign.
The campaign was co-ordinated by EMS Healthcare, who have extensive experience of helping PCTs and charities deliver mobile healthcare services.
Kathy Abbott, Immunisation Manager for NHS South West Essex, said: "By making the immunisation service quick and convenient for children and parents, we have achieved higher levels of vaccination than in previous campaigns.
"The mobile clinic was the perfect solution for the fast-response campaign that we required. An added bonus was the fact that the vehicle carried very prominent health messages on the exterior, helping us to further underline our message."
Keith Austin, CEO at EMS Healthcare, said: "The success of the project has highlighted the benefits of taking immunisation services on the road, especially to PCTs looking to increase the uptake of any immunisation programme amongst at-risk groups"
"Immunising against swine flu is a perfect example of how our mobile solution can assist PCTs and help relieve the burden of providing the service through existing GP surgeries or clinics"
EMS has already received a high level of interest from PCTs interested in commissioning mobile clinics as part of their planning for the swine flu immunisation programme.