Back to news
Mobile clinics play vital role in Our Future Health research programme
EMS Healthcare is thrilled to be supporting Our Future Health, the UK's largest health research programme, which aims to transform the prevention, detection and treatment of conditions such as dementia, cancer, diabetes, heart disease and stroke.
Helen Jones
Published 08 December 2022
Clinical research
Our Future Health aims to recruit up to five million volunteers across the country to create one of the most detailed pictures we've ever had of people's health and support potentially life saving discoveries for decades to come. 
Dr Raghib Ali, Chief Medical Officer for Our Future Health, said: "The current system is not sustainable but with the help of five million people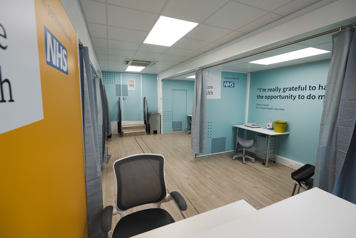 , we can really understand how we detect and prevent disease earlier. We will enable people to live healthier lives for longer."
He added: "By putting our clinics in supermarket car parks we're making it easy and convenient for everyone to contribute to health research, particularly people who have never done something like this before."
EMS Healthcare is providing the mobile hubs located in communities around the country to help enable more people from different backgrounds to take part. To help all kinds of people, every kind of person is need. By ensuring a diverse range of people can participate, Our Future Health can help make discoveries that benefit everyone.
Participants over 18 are invited to book an appointment at their nearest clinic, where they will provide a blood sample and have some physical measurements taken, including blood pressure and cholesterol levels. 
Everyone aged over 18 in the UK is welcome to join Our Future Health. For more information about the programme, please visit: https://ourfuturehealth.org.uk/