Back to news
Mobile endoscopy suites could play a pivotal role in new NHS networks
Jo Quarterman, EMS Healthcare's Divisional Director of Clinical Capacity, looks at the latest NHS England initiative aimed at improving patient outcomes
Jo Quarterman
Published 19 October 2023
Clinical capacity
Working with endoscopy specialists across the country, NHS England has issued new guidance on the development of endoscopy networks, providing a unique opportunity to shape future services that meet the needs of communities. 
Clinical networks are an NHS success story. They are patient-centred, population health focused and bring teams together to collaborate on an area of healthcare, where services cannot be delivered in all trusts, or where efficiencies and benefits can be achieved from joint working. Examples include imaging, pathology, and trauma networks, as well as cancer alliances. 
The latest NHS guidance makes it clear that the establishment of endoscopy networks is key to recovering and transforming endoscopy services. Their development will create the ability to: 
Improve population outcomes from digestive diseases 
Enhance quality and productivity of endoscopy services 
Reduce health inequalities 
Improve the sustainability of endoscopy service provision 
Practical solutions 
Currently, some patients and populations may struggle to benefit from high calibre endoscopies due to the way services are delivered, constraints around workforce, estate and infrastructure issues, and service configuration. These are the areas in which we believe that the use of mobile units could be crucial in helping to deliver practical solutions.  
Dr Robert Logan, NHS England National Specialty Advisor, Gastroenterology and Endoscopy, sets out the vision for endoscopy services in the development framework document: 
"To ensure that every patient can benefit from modern service delivery, we must move from the traditional model of delivery in every hospital, to one that focuses on specialist delivery in an appropriate setting and maximise patient outcomes by bringing together colleagues through networks to serve populations, crossing traditional organisational and ICB boundaries." * 
Pre-Covid, endoscopy services were experiencing a year-on-year increase in demand, set against challenges including ageing infrastructure, insufficient workforce, and the requirement to improve connectivity, digitisation, and data sharing. The pandemic exacerbated the situation and impacted hugely on available NHS capacity. 
Flexible mobile facilities 
At EMS Healthcare, our mobile endoscopy suites are designed in consultation with NHS professionals and can be deployed on hospital sites or in community settings, allowing endoscopists to perform a range of diagnostic and therapeutic procedures. 
Where necessary, we can provide hospitals with the much-needed extra space required to ensure patients receive essential endoscopy procedures. We supply: 
Additional endoscopy capacity built to maximise the number of patients 
State-of-the-art mobile endoscopy solutions, with or without an integrated decontamination unit 
Capacity to deliver +24 JAG points per day 
A self-contained unit with sufficient space to run a full service 
As part of the elective recovery plan, the NHS is increasing diagnostic testing services and planned procedures. Endoscopy activity is being upscaled across the country to meet growing demand for extra capacity.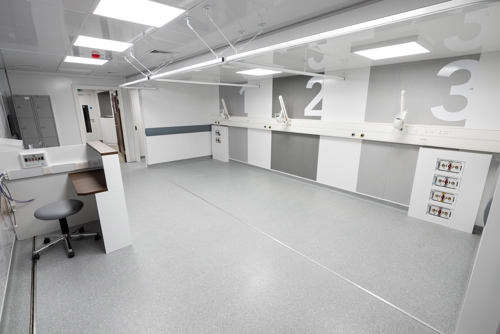 How mobile units meet endoscopy demand 
At the start of October, EMS Healthcare, working with the InHealth Group, deployed a mobile endoscopy suite to Tiverton and District Hospital. It is one of the largest community hospitals operated by the Royal Devon University Healthcare NHS Foundation Trust. 
Across the southwest of England, where a new network of Community Diagnostic Centres (CDCs) has been established, we have been supporting multiple trusts, in conjunction with InHealth. The new centres have been created to deliver a range of different services, including endoscopy, to speed up treatment, reduce waiting lists and provide care closer to home for people living in remoter areas. 
Previously we have stationed endoscopy units at hospitals in Kent and Surrey and we have also supported Kidderminster Hospital in Worcestershire, as part of their programme for establishing a Community Diagnostic Centre (CDC).  
Dr Carl Ellson, Medical Director for NHS Herefordshire and Worcestershire, was in no doubt about the impact of a mobile endoscopy suite: "Our priority is to address the waiting lists that have grown during the pandemic and to use the additional capacity at the CDCs to ensure patients can get the investigations they require in a timely manner and meet growing demand for diagnostic tests in the future." 
In Northern Ireland, we provided mobile endoscopy services to Whiteabbey Hospital in Newtownabbey, part of the Northern Health and Social Care Trust. 
Scott Corkin, Whiteabbey's Deputy Head of Operations, gave this assessment: "We are absolutely delighted with the mobile endoscopy unit which has well and truly surpassed our expectations. Not only is Trilogy+ equipped and built to a very high standard, but also our staff and patients alike have provided us with excellent feedback." 
A critical path to cancer prevention 
Endoscopy can be a critical gateway to the diagnosis of serious gastrointestinal diseases and an essential tool for cancer prevention. We recognise the challenges faced across the NHS, and we have solutions to support with:  
Increasing demand: An ageing population and greater awareness of gastrointestinal health are two of the key factors behind the growing need for endoscopy services. This can lead to longer waiting times and delays in diagnosis and treatment.  
Equipment upgrades: Many hospitals face challenges to make upgrades to ageing equipment while maintaining patient appointments.  
Inequality of access: There can be regional disparities in access to endoscopy services, which exacerbate health inequalities, with patients in underserved areas experiencing delayed treatment, while also lacking the chance to take part in clinical research. 
Patient focus 
The latest NHS guidance reiterates the need to consider how other novel diagnostics can be effectively deployed to support primary care and local communities in ensuring excellent patient outcomes and seamless pathways to specialist endoscopy. 
Nationally, a range of metrics are in place to track improvements in realising the vision for endoscopy services. The work of endoscopy networks will undoubtedly be an essential element and EMS Healthcare stands ready to support future service ambitions with our flexible, accessible mobile offer.  
*source:https://www.england.nhs.uk/long-read/gastro-intestinal-endoscopy-networks-a-development-framework/#:~:text=Pre%2Dcovid%20GI%20endoscopy%20services,The%20pandemic%20exacerbated%20this.