Back to news
Mobile eye surgery clinic set for Fiji
Jo Quarterman
Published 26 February 2015
In its bid to end avoidable blindness in Fiji by 2020, The Fred Hollows Foundation has launched a mobile eye clinic – marking the first of its kind in the Pacific.
The New Zealander-built clinic invited the public to jump on board in Auckland earlier this month. They were met with an 11.5 metre state-of-the-art self-contained facility, designed to meet the conditions in Fiji. As well being able to withstand tropical climates such as intense heat and cyclones, it relies on its own pure water and power source.Fred
The free mobile eye clinic is destined for remote parts of Fiji in March, where it will provide sight-restoring services to needlessly blind people. It will act as a day surgery, providing a full primary eye health examination service as well as cataract surgeries and diabetic retinopathy laser treatment.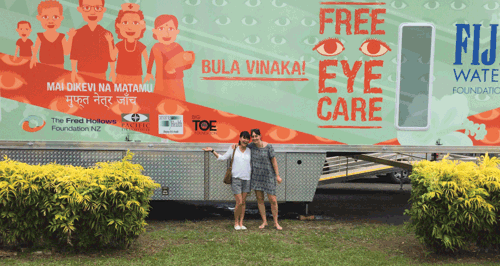 Unsurprisingly, there's been plenty of heart-warming anecdotes reported about the difference services like this can make. Including a woman in Vanuatu who hadn't seen her children or grandchildren for years.
Transforming people's lives by improving access to healthcare is not constrained to rural or hard to reach areas.
In the UK we have been working with Frimley Park Hospital NHS Foundation Trust to offer vision-saving treatment closer to patient's homes. The pioneering new service provides up to 50 patients each day with a one-stop assessment, diagnosis and treatment for wet age related macular degeneration (ARMD) - the most common cause of sight loss in the over 50s in the UK. Situated at convenient locations, the facility makes it easier for patients to receive their treatment on a regular basis.
We are also working with The Eye Site Clinic on a similar project. The unit is situated at Bridlington & District Hospital in Yorkshire and has been in operation for almost four years, helping save the sight of patients and a trip of up to 84 miles. The mobile eye clinic provides assessment, treatment and monthly check ups for patients with ARMD and supports ophthalmology treatment centres in NHS hospitals that don't have the space or capacity to deal with the increase in demand for the treatment.
Vision Express is another provider that we have worked with to improve eye care services. Last year we designed and fitted out a mobile unit for the company so it could tour the UK offering free eye tests. The 12m-long branded vehicle toured busy shopping areas in major cities as part of National Eye Health Week.
If you'd like to talk about mobile healthcare facilities, get in touch today.