Back to news
Mobile treatment – answer to a healthcare dilemma?
Jo Quarterman
Published 18 November 2011
A legal challenge reported in the Guardian this week highlighted the plight of cancer patients who have to travel for up to six hours a day for chemotherapy because services are being centralised.
With the continuing pressure on NHS budgets, a growing number of providers are choosing to go mobile - taking EMS Healthcare's units out on the road to provide treatment closer to people's homes.
It's a cost-efficient way of delivering vital healthcare more conveniently to vulnerable patients with a range of different conditions.
In South Wales, EMS has worked with the Tenovus charity to deliver treatment to hundreds of cancer patients every week with a mobile chemotherapy unit, cutting journey times by more than half.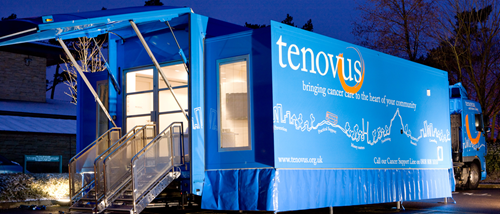 In Yorkshire, EMS Healthcare manages a mobile eye care clinic for eye specialists treating up to 50 patients a day with an injectable drug treatment to prevent them from going blind. The 'Liberty Plus' medical trailer allows patients to visit their local hospital site for treatment, instead of undergoing a round trip of up to 84 miles to a regional unit.
In Welshpool, we are managing community-based dialysis to patients via a mobile unit created by linking four 13.6m medical trailers together.
EMS Healthcare can convert any of its fleet of medical trailers to create a bespoke, high-quality mobile treatment environment.
EMS Healthcare's Chief Executive Officer, Keith Austin said:"Our state-of-the-art mobile trailers are helping transform services across the country for the growing number of healthcare providers who are committed to giving first-class care while managing scarce resources."