Back to news
NHS Galleri-Trial: Welcoming back participants for second year
Helen Jones
Published 18 November 2022
Clinical research
The NHS-Galleri Trial welcomes back participants across the UK for their second year appointments.
As the second year of the trial is underway, our clinical staff are back out in the community, welcoming back participants for the next appointments. 
Participants are invited to attend three appointments over two years. By attending their 12 month appointment, participants are helping the NHS to see if using the Galleri blood test could help detect cancer early when it is easier to treat, alongside existing cancer screening. 
Professor Charles Swanton, Co-Chief Investigator for NHS-Galleri trial, explained: "These next trial appointments are really important for helping researchers understand whether the Galleri test could be used by the NHS in the future. 
"The first year of the trial may pick up new cancers that have been around for some time. The second and third years of the trial may pick up new cancers at an early stage. This will help us understand the benefits of finding cancer early, when it is usually easier to treat."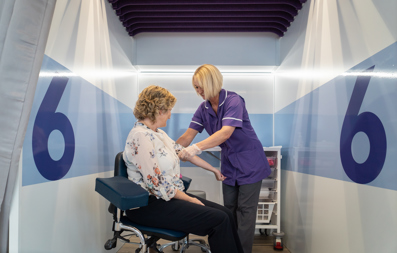 EMS Healthcare are proud to be playing an integral role in the study, by providing the 11 mobile units across the UK and recruiting over 120 clinical staff. The mobile units are sited in convenient community settings, which enables easier access for volunteers to take part. 
Initial results of the trial are expected by 2023, and if successful, NHS England plans to extend the roll out of the trial to a further one million people in 2024 and 2025.