Back to news
NHS Hastings gets people on board for free health checks
The NHS in Hastings and Rother is going on the road with a three-week tour offering local people a free health check on a specially designed bus.
Jo Quarterman
Published 05 July 2010
The NHS Health Check bus, a collaboration between the local NHS and pharmaceutical company Pfizer, is travelling to nine locations between 23 June – 20 July 2010 to bring essential health screening services to the community.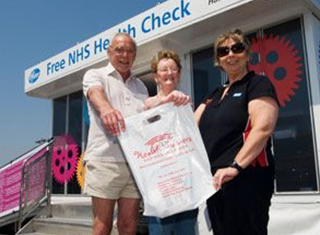 The aim is to reach people who wouldn't normally go to their GP for a check-up and will screen for conditions such as heart disease, type 2 diabetes, kidney disease and stroke.
The unique vehicle has been developed by healthcare roadshow specialist Event Marketing Solutions (EMS) who will manage the tour.
The NHS Health Checks are available to adults aged between 40 and 74, and are provided by trained nurses who will ask questions about the patient's lifestyle, record their height, weight, blood pressure, pulse rate and conduct a simple blood test to check cholesterol levels.
Information and support for maintaining a healthy lifestyle will also be available to adults of any age.
The NHS Health Check bus is aimed at offering people an important service at a time and place more convenient to them so that they can get themselves checked out and make sure that any health problems or issues can be tackled as soon as possible.