Back to news
PCTs on the road for No Smoking Day
Four Primary Care Trusts (PCTs) will be taking their services on the road for National No Smoking Day on 11 March 2009 – using high-profile mobile exhibition units to encourage local people to quit.
Laura Nash
Published 18 May 2010
Clinical capacity
Newham, Hounslow, City & Hackney and Mid Essex PCTs have all separately approached specialist supplier EMS Healthcare to provide stop smoking roadshow campaigns for March.
Hosted on board colourful exhibition units, the roadshows will deliver support and information directly into the heart of their communities – visiting high footfall locations including colleges, markets and shopping areas.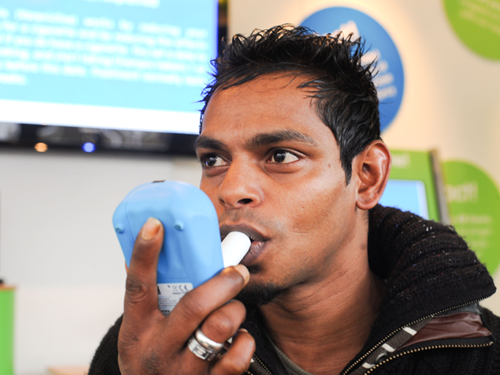 Each campaign has been designed to meet local needs. For example, the Newham PCT campaign uses an attention-grabbing 'What's Your Lung Age?' theme, whereas the NHS Hounslow campaign focuses on the financial burden of smoking.
Mobile outreach is becoming increasingly popular among PCTs, as they appreciate the significant benefits it can deliver.
For example, in just seven weeks of its 12-week tour, Newham PCT had engaged with 2,815 people; 2,097 of them took a 'lung age' (spirometer) test on board the roadshow vehicle, and 467 set a 'quit date' with the PCT team.
Liz Hughes, Stop Smoking Programme Manager for Newham PCT, said: "We are delighted with the early results of our mobile campaign. This direct approach is helping us to engage with hard-to-reach groups and to encourage more people to take advantage of our comprehensive Stop Smoking service."
Keith Austin, Chief Executive Officer at EMS Healthcare, said: "More and more PCTs are recognising the value of a mobile campaign in areas like smoking cessation and health promotion.
"Running a campaign around a high-profile opportunity such as National No Smoking Day is an excellent way to increase its impact."
The four PCT roadshows are running on the following dates:
- Newham PCT 'What's Your Lung Age' campaign: 5 January to 27 March;
- NHS Hounslow 'Smoke-free Hounslow' campaign 9 March to 3 April ;
- City & Hackney PCT 'Take the first step: no smoking day' campaign: 5 March to 17 March;
- NHS Mid Essex PCT 'Helping Mid Essex Become Smoke-Free' campaign: 9 March to 28 March.