Back to news
Supporting better healthcare closer to home
Jo Quarterman
Published 10 April 2013
The prospect for major investment in new healthcare estates looks slim as the strategy to bring care closer to people's homes becomes reality. Keith Austin, CEO at EMS Healthcare looks at how the switch to community care is raising standards nationwide.
Private Finance 2, which sets out a new approach to financing the building and maintenance of public infrastructure, will be used to build the next generation of hospitals. But despite its announcement at the end of last year there has been little movement to invest in new healthcare estates.
The delay isn't just about money or red tape; there is the wider strategy to consider of moving away from care delivered in hospitals to providing care closer to people's homes.
The scale of investment necessary to meet this ideal is much smaller than that required for developing new large scale hospital sites. But this isn't the only benefit. We have been working with numerous private and public sector organisations to facilitate care in the community and have been inspired by what has been delivered and the warm reception from patients and staff alike... To say the benefits can be life changing is not an overstatement.
Take our work to fit out and supply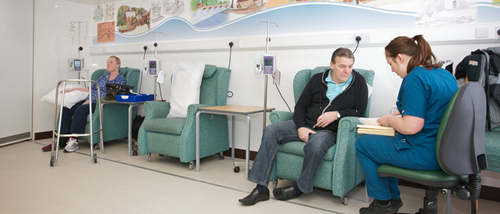 with a state-of-the-art mobile chemotherapy facility. Since the beginning of the year it has been improving patient care by making treatment as accessible and easy as possible, serving around 25 people daily from the Chester area in a Tesco car park.
Perhaps an unlikely site for life-saving treatment, but the feedback from patients has been overwhelmingly positive. The bespoke unit houses six chemotherapy stations with preparation, reception and waiting areas. Patients feel a real sense of community and ownership while attending the clinic and the environment has been described as 'warm and cosy' with a 'more jovial atmosphere'.
Other initiatives that we have been involved in include a mobile eye clinic which helped medical consultants save the sight of thousands of patients across the East Coast while saving them a trip of up to 84 miles for treatment. A temporary renal dialysis unit has also saved patients in North Wales hours of travel every week, helping to improve their quality of life.
Thousands of patients across the UK are making long journeys to receive specialist treatment. These unique facilities provide a solution to help reduce the cost, burden and strain of travelling while delivering first class care. Waiting time is minimal too, making the experience less tiring, and a more familiar location helps put patients at ease.
The evidence is clear on why healthcare providers are taking their care closer to people's homes. This patient-centric approach is set to continue and I am proud to be part of it.