Back to news
Tackling The Capacity Crisis Head On
Keith Austin
Published 23 June 2019
Clinical capacity
Each year, almost 42,000 people are diagnosed with bowel cancer, making it the fourth most common cancer in the UK. Around 16,000 lives are lost to the disease each year, although this number has been falling since the 1970's thanks to earlier diagnosis and improved treatment. Just over a year ago, a petition signed by over half a million of us to lower bowel screenings from 60 to 50 was successfully implemented, with ministers accepting the findings of a formal review. Now, there are calls to reduce this screening age even further, as research published just last week revealed that bowel cancer rates are rising amongst people in as low as their 20's.
What this much-needed lowering of the screening age has meant, is even greater demand on our public health service for quality endoscopy and pathology services. According to Bowel Cancer UK, demand for gastrointestinal endoscopy is set to exceed 2.4 million procedures per anum by 2019/20 – and that is without taking into account another potential lowering of the screening age. This is having a direct impact on waiting times, with many people waiting too long between referral and tests. Without the adequate capacity to meet the sudden jump in demand, patients face considerable delays to accessing potentially life-saving diagnostic tests.
Bowel Cancer UK are spearheading a campaign calling on the government to address the current capacity crisis, handing an open letter to the Secretary for Health and Social care with over 7,000 signatures – an indicator of the scale of the issues at hand.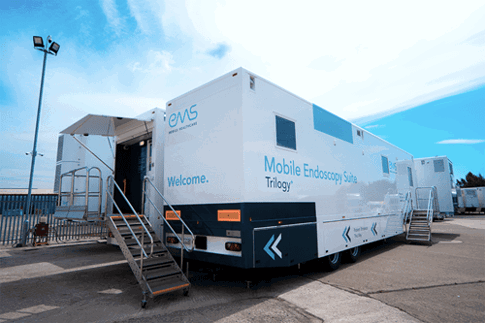 Not only is there a lack of capacity, but there is a considerable variation in the quality of endoscopy services across the UK. Most endoscopy units currently in use were built many years ago, when cleaning, decontamination, high level disinfection and storage requirements differed significantly. As such, they do not meet the quality standards set out by the Joint Advisory Group for Gastrointestinal Endoscopy (JAG), which are critical to providing an adequate service for patients. Ensuring these services are of the highest quality is imperative to counteracting this disease and most importantly, saving lives.
To raise the availability and quality of service, we are now seeing NHS Trusts take a more proactive approach by partnering with innovators in the industry. It's all about getting the experts around the table and finding the correct solutions to the challenges currently being faced. With the most recent NHS Long Term Plan, there were promising indicators of this beginning to happen. It included a pledge to utilise more mobile medical units – an important step forward, as it is a move away from using inefficient and expensive external services that were previously seen as a quick-fix solution. The flexibility of these mobile units means an increase in demand can be far more easily dealt with, without comprising on quality of care. 
In the case of endoscopy services, getting all of the elements right is highly complex, from the patient flow and staffing to having an efficient reprocessing system – the process has a number of moving parts. Facilities that can provide a 'one-stop-shop' are set to prove the game-changers. Undergoing a bowel cancer screening is an unnerving time for many patients, so providing an accessible, modern and comfortable environment for this to take place will undoubtedly alleviate some of their anxieties.
With the lowering of the screening age, it is an opportune moment to build on the progress that has already been made in Bowel Cancel treatment. The truth of the matter, is that early detection greatly improves survival rates. NHS Trusts that embrace innovation in the hospital estate are already seeing strong results from this approach – now's the time to see this replicated consistently across the UK.