Back to news
The FA and Breast Cancer Care team-up with EMS Healthcare for Breast Awareness Roadshow
Laura Nash
Published 17 December 2015
Press release
EMS Healthcare is taking The Football Association and Breast Cancer Care's #Passiton message into the community with a 24-week Breast Awareness Roadshow.
Footballing legends came out in force at St George's Park to show their support and kick off the roadshow with appearances from Theo Walcott, Jack Butland and Jonjo Shelvey.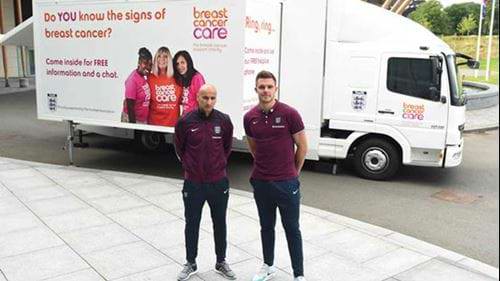 The Breast Awareness Roadshow will see vital breast health information and support services reaching out to communities with particularly low awareness levels of breast health. Ninety six events will target black and minority ethnic (BME) groups and older women (aged over 45) with locations spanning high streets and mosques as well as an event at the Houses of Parliament tomorrow (8 September).
EMS Healthcare designed and fitted out the White exhibition vehicle with hot pink and orange accents to reflect the Breast Cancer Care brand.
The warm and inviting environment features comfortable seating and information areas with iPads to access the new Breast Cancer Care app. A private booth has been designed for women who have an immediate concern to make a private call to the charity's free helpline. 
Breast Cancer Care's trained staff and volunteers will follow the roadshow handing out leaflets and providing breast awareness messages and signposting on to their support services.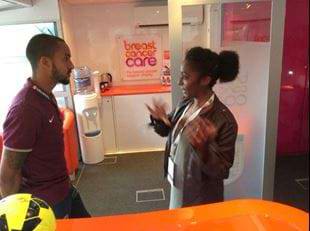 The roadshow is part of Breast Cancer Care's two-year #Passiton campaign with The FA, their official charity partner 2014-2016, to reach out to thousands of people with vital breast health awareness messages.
Manveet Barar, Project Manager for The FA Breast Awareness Roadshow at Breast Cancer Care said: "This roadshow marks the next phase of our #Passiton campaign. As well as raising awareness of the signs and symptoms of breast cancer, we will be educating women and men on how to be breast aware. Early detection is vital to saving lives, which is the crux of this campaign."
Suzie Nield, EMS Healthcare Business Delivery Manager said: "We're thrilled to be working with The FA and Breast Cancer Care to help educate thousands more women about breast health. This is about taking healthcare communications right to the heart of communities to get face-to-face with the people who need it most. We've experience of this type of campaign from previously working with PCTs and healthcare charities, so we know it's an extremely powerful way of raising awareness among a hard to reach group.
"We have specially designed and fitted out our Pathfinder exhibition trailer, which is popular with healthcare providers due to ease of access onto smaller site locations, while providing a spacious and open-plan interior. We have also provided site recommendations to maximise the impact and will be managing what is a comprehensive schedule."