Back to news
We're looking forward to exhibiting at the NPAG Theatres and Decontamination Conference
Jo Quarterman
Published 09 March 2018
Clinical capacity
Visitors attending this year's National Performance Advisory Group (NPAG) Theatres and Decontamination Conference will be able to discover more about Quest+ Decontamination, the UK's first mobile decontamination unit, direct from members of the EMS Healthcare team.
The mobile unit, which was launched in October 2017 at the Healthcare Estates conference in Manchester, offers endoscopy units across the UK a groundbreaking facility. It enables hospitals to continue endoscope reprocessing services without disruption, creating efficiencies during;
Department refurbishment
Equipment replacement
Capacity pressures
Disaster recovery
As well as learning more about this innovative facility, delegates can also view a 360-degree view of the Quest+ Decontamination unit, while learning more about our wider range of mobile decontamination facilities. So in between a packed programme of seminars, speakers and networking, pop along to stand 30. We'd love to talk to you about how our mobile decontamination units can help support your department with its future plans.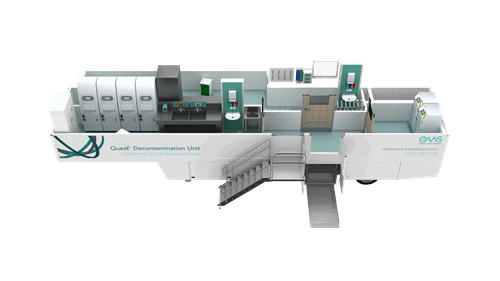 What is Quest+ Decontamination? 
Demand for gastrointestinal endoscopy procedures in 2019/20 is expected to be 44 per cent higher than in 2013/14[1]. The Quest+ Decontamination unit is the UK's first mobile decontamination solution and is designed to save hospitals time and money by removing the need to use external decontamination services or transfer a decontamination unit to another location within the hospital estate.
With an overall footprint of just 16.8m x 6m and a 90-minute on-site installation time, the Quest+ Decontamination unit can be easily driven on-site, be operational within 48 hours* (based on PCR test) and has the ability to reprocess 120 scopes per day (at full capacity).
The unit includes:
One way flow for scopes
Endoscopy grade sink
Four washer disinfectors
Built-in RO plant
Chemical storage
Track and Trace
Dirty and clean gowning areas
Drying cabinet
 [1] Scoping The Future: An evaluation of endoscopy capacity across the NHS in England, Cancer Research UK, September 2015.
Event details
The NPAG Theatres and Decontamination Conference takes place on Wednesday 14 March 2018 at the Forest of Arden Marriott Hotel and Country Club, Warwickshire.
Download the conference programme and find out how to secure your place.