Back to news
Association of Renal Technologists Annual Conference - First for EMS Healthcare
Jo Quarterman
Published 25 October 2018
Clinical capacity
Recently we exhibited at the Association of Renal Technologists (ART) national conference in Grantham. While the event, which attracts renal technologists from all around the country has previously been in our calendar, we decided that this year it was time to get face to face with its delegates and showcase how mobile renal dialysis units are making a difference to our NHS.
Understanding the challenges
We recognise that every healthcare speciality faces its own individual challenges and with each conference we attend we aim to understand what the main ones are. It's estimated that in the UK there are 3 million people with Chronic Kidney Disease and 30,000 people receiving renal dialysis treatment 1. When faced with statistics like these it's understandable the three common challenges highlighted throughout the ART conference were; capacity pressures, lack of clinical space and staff shortages.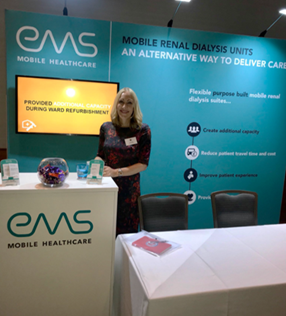 Meeting the demand & patient expectations
Statistics show the number of patients requiring renal dialysis treatment is growing by 3.9% per year 2. From the outset of the conference it was clear that NHS Trusts are continuing to deal with this heightened patient demand, forcing them to seek new ways of delivering renal dialysis care. With this, comes the responsibility of ensuring the expectation of the patient is still met.
A survey of renal dialysis patients found that some of their main concerns where centred around their experience of being transported long distances for treatment 3. When NHS Wales commissioned our Liberty Quad mobile renal dialysis unit one of their objectives was to deliver care closer to patients while a new permanent renal dialysis facility was constructed. Following the installation of the mobile renal unit patient travel time was reduced by 2 hours, helping them to experience a better quality of life during treatment.
Gerard Boyle, Section Manager of Renal Services at NHS Dumfries & Galloway also shared his experience of patients receiving renal dialysis treatment in more rural areas; "There are so many exceptional services available to renal dialysis patients, although for more remote areas they could be much wider spread to help provide patients with an enhanced treatment experience."
A clear and effective concept
The concept of delivering renal dialysis treatment inside a mobile medical unit is one that's been proven to help support NHS Trusts during some of their greatest challenges for over 10 years. For King's College Hospital, being one of the busiest hospitals in London meant the strain on their services continued to grow. When they struggled with lack of clinical space they opted to install our Liberty Quad+ mobile renal dialysis unit, which provided them with an additional 7,200 patient slots per year. Commenting at the time of the installation a Trust architect said; "the mobile renal unit was the most time and cost-effective solution".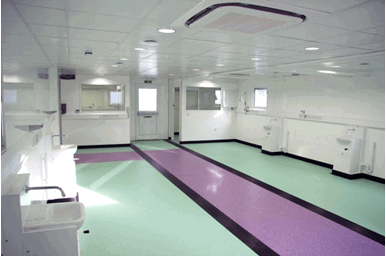 While at the conference we spoke with Ian Wilde, Technical Service Manager at Manchester University NHS Foundation Trust who said; "The idea of utilising a mobile renal dialysis unit to support on-going challenges is a fantastic concept and one we would consider."
For more information about the mobile renal dialysis units we provide click here or email; info@ems-healthcare.com.
Find out more about the Association of Renal Technologists here. 
1 https://www.kidneycareuk.org/news-and-campaigns/facts-and-stats/ 
2 https://www.karger.com/Article/PDF/481364
3 https://www.renalreg.org/wp-content/uploads/2017/05/PREM-2016-Report.pdf