Back to news
Building patient confidence in accessing non-COVID-19 treatments
Keith Austin
Published 12 May 2020
Clinical capacity
With the NHS entering the second phase of its COVID-19 response, it faces a new challenge: patient concerns around infection risk possibly preventing them from attending outpatient services. How can NHS Trusts communicate confidence in its infection prevention measures as many non-COVID-19 treatments and procedures – previously halted – resume?
Keith Austin, CEO and founder of EMS Healthcare, discusses how Trusts can address these concerns and plan proactively to ensure outpatient services run smoothly once resumed.
Though we are not out of the woods by any stretch, thanks to the NHS' response to the spike in COVID-19 infections – and the incredible efforts of those on the frontline – we are now beyond the peak of the crisis.
The government's campaign – stay at home, save lives, protect the NHS – has been heard loud and clear by the public, with a significant drop in A&E admissions and outpatient appointments. In fact, visits to A&E fell by nearly 50% in April and GP appointments declined by nearly 30%.
Alongside government plans to reopen workplaces and the economy, the NHS is preparing for its second phase response. Whilst it will continue its vigilance in the face of the pandemic, this phase will involve the resumption of non-urgent services, including some outpatient appointments. Local systems have been encouraged to judge capacity for reintroducing routine elective care, in line with ongoing infection prevention measures.
It's particularly pertinent given concerns over rises in possibly preventable deaths and worsening prognosis – some cancer specialists have publicly expressed fears over a spike in cancer deaths due to the disruption of services. Whilst COVID-19 is set to be an ongoing challenge for the NHS, it will be vital to safely resume other services to ensure the public can access necessary medical support.
With a clear need to get services back up and running safely, Trusts will likely face a new challenge – patient reluctance to visit the hospital site due to concerns around infection risk. People need to be assured and confident that they can safely attend appointments and access treatment, without fear of infection.
Trusts will need to take action now to put controlled environments in place to address this nervousness and communicate measures effectively to patients. It requires taking a step back and considering the best way to control the spaces that patients enter. It's not only following government guidance around social distancing measures and use of PPE, but considering use of technology – such as disinfectant fogging machines – at the start and finish of each day.
There is also a real case to be made for taking some services away from the main hospital site, and closer to communities. This separation from the hospital could be an effective solution to not only reduce infection risk but alleviate those very real patient concerns about going back into the public realm. We've already seen some Trusts recognise this in delivering urgent care at home, aimed at preventing those who are frail and vulnerable from having to go into the hospital setting; but there are also ways to bring controlled clinical environments closer to patients.
Services, such as infusion, endoscopy and wet age-related macular degeneration (wAMD), can all be delivered onboard mobile medical units for example. All necessary equipment can be installed, and adjustments to account for stringent hygiene procedures can be introduced; patient waiting areas can accommodate social distancing, hand sanitisers inside and out of the unit, temperature testing, and complete disinfection and fogging machines can be run at the end of each day.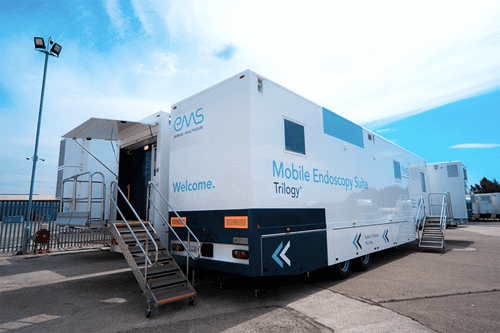 By taking appointments physically out of the hospital, and by communicating protection against infection to patients, we can ensure we are not losing people to procedures where appointment attendance has been impacted by the pandemic.
This may also help to alleviate waiting list issues, which will have been compounded by the pause in non-urgent services. Previously we've seen Trusts utilise mobile facilities to alleviate waiting list pressures to great success, deploying units to improve endoscopy capacity and reduce waiting lists for bowel cancer screenings, for example.
Whilst our health service continues its fight against this pandemic, advance planning is going to be key to minimise the impact to returning services. For patients who may be concerned about infection, and are reluctant to visit the hospital estate, Trusts can play an important role in reducing this apprehension. Adapting service delivery – whether that's introducing new hygiene measures or resuming appointments outside of the hospital – will go a long way in the journey back to some semblance of normality.
*** https://www.kcl.ac.uk/news/researchers-highlight-impact-covid-19-pandemic-patients-with-cancer