Back to news
EMS Healthcare hailed as 'invaluable' in the rollout of NHS-Galleri cancer blood test trial
Helen Jones
Published 20 September 2021
Clinical research
EMS Healthcare is delighted to be playing a key role in the world's largest trial of a revolutionary new blood test – and our expertise has already been hailed as "invaluable" in a process that could revolutionise early cancer screening.
The project will trial a new blood test – which is called Galleri™ and was developed by US firm GRAIL. The aim is to recruit 140,000 participants in England aged 50-77 with no history of cancer in the last three years. Participants will be screened for more than 50 types of cancer – including those that are hard to detect in their early stages, such as pancreatic, head and neck, ovarian and oesophageal cancers.
Initial results of the study are expected by 2023 and, if successful, the NHS in England plans to extend the rollout to a further one million people in 2024 and 2025. Patients whose cancer is found early – known as stage one or two – typically have a broader range of treatment options available to them, which can be curative and are often less aggressive. A patient whose cancer is diagnosed at the earliest stage typically has between five and ten times the chance of surviving compared with those found at 'stage four.'
EMS Healthcare are providing 11 mobile healthcare spaces and recruiting over 120 clinical staff to work on the units for the NHS-Galleri trial. EMS Healthcare Clinical Services Manager Helen Jones said: "I've been meeting people across the country as part of the recruitment process and their excitement to be part of something truly ground-breaking is apparent in everyone we meet. Their role is critical to the success of the trial, and we have an amazing team who can't wait to get started."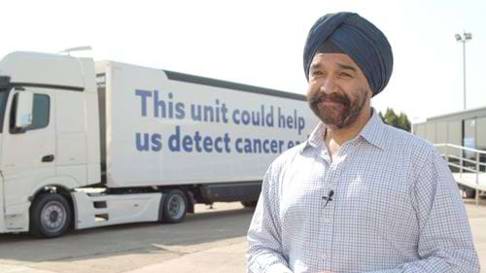 Sir Harpal Kumar, president of Grail Europe, said: "Using mobile clinics for this study is important for two reasons. The first is that we want to be able to access as many people as possible in the population. By using mobile clinics, we can go to locations that are easier for volunteers to get to. Things that sometimes cause problems getting a good representation of the population in studies, hopefully we can overcome by having the clinics go to where people are.
"Second, we didn't want to increase the burden on the NHS. The mobile clinics give us an opportunity to undertake the study in all the ways we need to, without adding more pressure on the NHS."
Sir Harpal Kumar added: "EMS has fantastic experience in mobile clinics, how to deploy them, how we think about scheduling and making them available to people. Frankly, that experience has been invaluable to us. EMS brings the expertise, and the clinics look fantastic. It's important the volunteers taking part in this study feel comfortable and relaxed. The environment and design of these clinics absolutely achieves that."
EMS Healthcare's Chief Executive, Keith Austin said: "This project could lead to extraordinary advances for the detection and treatment of cancer. Several of our team have been affected by the disease, so as a business we're honoured to be playing our part.
"We look forward to working together with the NHS, GRAIL, The Cancer Research UK and King's College London Cancer Prevention Trials Unit, and our other supporting partners on what could prove to be a truly transformative project."